Transfers
Arsenal's Iwobi signs long-term contract extension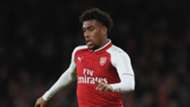 Alex Iwobi has signed a new long-term contract with Arsenal that ties him to the London side until 2022, the club announced on Friday.
Iwobi, who has been with the Gunners since he was nine years old, came through the club's Hale End Academy, breaking into the first team in 2015.
A lifelong fan, the 22-year-old was over the moon in putting pen to paper on a new deal.
"It's always been my childhood dream to represent Arsenal, from young," Iwobi told Arsenal media during his signing presentation.
"To get an extended contract is an amazing feeling and I hope I'm doing the Arsenal family proud as well as my family.
"It feels so special. The first kit I had was Arsenal and long may I continue to represent them."
Alex Iwobi has signed a new long-term contract

Congratulations, @AlexIwobi 🔴

— Arsenal FC (@Arsenal) August 3, 2018
New boss Unai Emery was also delighted with the news, citing Iwobi as an example for other youth players to follow.
"I'm very pleased Alex has signed a new contract with us," the manager said.
"He is a great example of a player who can succeed from the Academy through hard work and I look forward to working with him and our other talented young players in the squad."
Since his first-team debut, Iwobi has racked up nine goals in 98 appearances for the senior side.
Also a Nigeria international, having recently represented the Super Eagles at the World Cup, the attacker has five goals in 21 appearances for the national team.