UEFA Europa League
Aliadiere: Wenger told me I'm welcome to train with Arsenal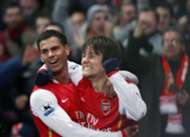 Former Arsenal striker Jeremie Aliadiere has revealed that Arsene Wenger has given him an open invitation to come back to train at the Gunners' London Colney training ground anytime he wants.
The 34-year-old current free agent recently attended the Premier League match against Everton after a French TV station requested to make a short documentary on his life away from France.
Aliadiere met with Wenger after the game where the two spent hours watching football and reminiscing about old times in the manager's stadium office.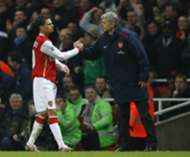 "I was with SFR Sport because they just wanted to follow me for a couple of days to see my new life after football, going back to the Emirates to see Wenger and the old players I played with," Aliadiere told Goal.
"I've never really been in touch since I left Arsenal or talking to him on a regular basis. Every time I need him for anything or I see him at the game we always spend a lot of time together and have a good chat.
"After the game I went to his office in the stadium and spoke for a few hours, watching football and chatting about the old days, my new life and family.
Aliadiere, who had spells on loan at Celtic, West Ham and Wolves during his time at Arsenal, is currently living with his family in London following a stint at French side Lorient.
He admits that he hasn't been in regular contact with Wenger but praises for the Frenchman for his man management skills, dubbing him "the best coach and manager" he has ever had.
"It's a strange one because I don't see him or talk to him often but when we do see eachother then we're just happy to have a chat. He said to me 'you're welcome to come to London Colney anytime you want, to train or do whatever'. Now that I'm back in the UK and living here I'll probably go there and keep touch with him.
"He's the best coach and manager [I've ever had]. Some people are really good coaches but not very good man managers but he's an all rounder. He knows how to treat his players and get the best out of them."