COMMENT
By Kris Voakes | Italian Football Editor
He wasn't always the magnificently coiffured icon that we would become accustomed to. On the outside, Alessandro Del Piero was a short, skinny kid with a big mop of hair when Giampiero Boniperti paid 5 billion lire to prise him away from Padova in 1993. But what he did always have was class. More than that, he had Juventus class.
He may not have got his hands on the Coppa Italia one last time, but he still leaves the club tonight with the Scudetto under one arm. Del Piero was a winner until the last, just as he had been from the very beginning. He played a part in the Primavera side's league title and Viareggio Cup double soon after arriving, and before long was elevated to the first team, fittingly scoring on his home debut against Reggiana with a neat left-foot half-volley.
ALESSANDRO DEL PIERO

AT JUVENTUS






CLUB STATS

Appearances
705
Goals
290


HONOURS

8 Scudetti
1 Serie B
1 Champions League
1 Intercontinental Cup
1 Uefa Supercup
1 Intertoto Cup

1 Coppa Italia
4 Supercoppe Italiane
After five goals in his first season, including a hat-trick against Parma, he became a regular in 1994-95, playing 50 games in all competitions as the Bianconeri collected a 23rd Scudetto. Such was his impact that he was called up for Italy's Euro '96 qualifier against Estonia in Salerno. Aged just 20, he was already making a mark, scoring some stunning goals along the way.
When Calcio made the move to squad numbers on players' shirts in 1995, Alex was handed Juve's mythical No.10 jersey. The likes of Liam Brady, Michel Platini and Roberto Baggio - who was sold that summer so sure were Juve of Del Piero's ability - had donned the same shirt before him, but now it was his for keeps. His legacy would dictate that he would surpass every one of those names in the annals. He also joined a small number of players to become a European champion in the black and white in 1996 when the Champions League was won on penalties against Ajax.
That triumph in Rome was soon followed by an Intercontinental Cup - where Alex hit a memorable winner against River Plate - and back-to-back Scudetti, but there were successive failures in Europe despite Del Piero's best efforts. In 1997 he scored a brilliant flick as substitute in a 3-1 final defeat against Borussia Dortmund and one year later the Bianconeri fell 1-0 to Real Madrid in Amsterdam after 'Il Pinturrichio's 10 goals in the competition - including a semi-final first leg hat-trick versus Monaco - had led them to the verge of glory once more.
"He is different to Zinedine Zidane. He likes to play, he feels it in his soul. Between him and the Frenchman, I choose him"

- Diego Maradona
Playing among some great names, he still stood out. "He is different to Zinedine Zidane," Diego Maradona once said. "He likes to play, he feels it in his soul. Between him and the Frenchman, I choose him."
Fast becoming one of the most feared players in world football, it appeared that nothing could stop him, but injury very nearly did.
It was in injury time of the clash with Udinese in November 1998 that Del Piero made a run towards the bye-line and looked to steer a shot in ahead of defender Marco Zanchi. He ended up in a crumpled heap on the floor with his anterior and posterior cruciate ligaments in his left knee ruptured, and his whole body squirming in agony. Watching him being stretchered from the field, many worried that his career might never be the same again, and although he lost his once explosive pace his response was that of a true champion.
The following summer, with his fitness restored, he was handed a new five-year contract, and by 2001 he was named club captain. Racking up many a 'Gol alla Del Piero' (his trademark curlers from the angled edge of the area), he was to inspire his side to Serie A successes in his first two seasons with the armband, and also led the team out at Old Trafford as he made a fourth Champions League final appearance in seven years in 2003 as the Bianconeri succumbed to Milan on penalties.
Further titles arrived in 2005 and 2006, with Alex scoring vital goals all the while. A winner at Inter, one against Udinese, and a crucial equaliser against Fiorentina would help see Juventus to their 29th league title, but heartache was to follow.
"I'm happy that you have smiled, cheered, cried, sung, shouted for me and with me. No colour will ever be brighter for me than black and white. You've made my dream come true. More than any other thing, today I just want to say thank you"

- Del Piero to Juventus fans

He would eventually make more appearances and score more goals than any other Juventus player in history, but it was perhaps during the Calciopoli scandal that Del Piero wove himself into the fabric of the club like never before. His exploits on the pitch had been magnificent, but his loyalty off it surpassed everything else. Demoted to Serie B, the Bianconeri were not about to lose their captain too, with Alex instead sticking around to finish top scorer in the second tier as they marched back to Serie A at the first time of asking.
He continued to lift them up by the boot straps the following year, becoming one of an elite band to win back-to-back capocannoniere crowns in the top two leagues by notching 21 goals as Juve finished third in their return to the summit.
That podium finish saw them re-enter the Champions League, where they were drawn in the same group as Real Madrid. He notched the first goal as the Bianconeri won 2-1 in Turin against Los Blancos, but it was at the Santiago Bernabeu that he proved to still be at the very top of the world game just a few days before his 34th birthday.
"This time we have to worry about being efficient and keeping an eye on Del Piero," said Madrid keeper Iker Casillas before the return fixture. "He can beat you in many ways." And he did. Two superb goals, including a trademark free-kick, earned him a deserved standing ovation from all areas of the famous stadium as he was substituted moments from the end of Juve's 2-0 win. Only a select few visitors - Diego Maradona, Ronaldinho and Messi - have been granted such a privilege in Madrid by the notoriously hard to please home fans.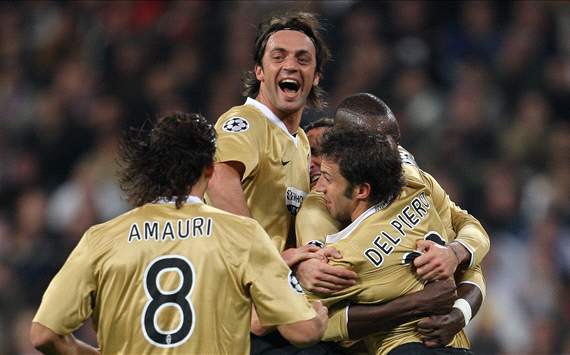 Magnificent moment | A Del Piero masterclass brought the Bernabeu to its feet
As Father Time began to chase him, he simply put on more tricks. He played less games in his later years with the club, but his magnificent skills were no less evident when his ageing legs were able to see him take the field.
By the summer of 2011, all that was missing from the rejuvenation of Juventus Football Club was the eighth Scudetto Del Piero deserved. A fortnight ago, it arrived, just not how some had envisaged. Del Piero had not only become a bit-part player, but an unwanted asset to boot.
President Andrea Agnelli announced as early as October that this would be the club legend's last season as a Bianconero. It has proven to be a hasty move. When the side needed a bit of added extra in the run-in, Del Piero provided it. He changed the game against Inter and secured a crucial victory against Lazio with another of his famous free kicks. As little as he'd played all season, he'd had a huge impact after all.
He signed off during last week with a heartfelt open letter to the fans of Juventus, saying: "I'm happy that you have smiled, cheered, cried, sung, shouted for me and with me. No colour will ever be brighter for me than black and white. You've made my dream come true. More than any other thing, today I just want to say THANK YOU."
The decision by the club not to make a U-turn and keep Del Piero on into his 39th year has been met with criticism. Even Paolo Maldini added his voice to those of the dissenters. "Agnelli's announcement about Del Piero's departure has really hurt me," said Alex's former international skipper. "It was not for him to say. What sense is there in doing such a thing? He should have waited until Alessandro felt ready to talk about the end."
Whatever the consternation over the parting, what is certain is that there will be a great big hole in the make-up of the club next season. With no Del Piero, the dressing room, the training ground, and the city of Turin will all be worse off. When he waved to the crowd as Mirko Vucinic replaced him at the Olimpico on Sunday, it was the last goodbye. Now he is gone ... at least from Juventus.
"He is a great player who has given everything to football, to Juventus and to Italy," said triple Ballon d'Or winner Lionel Messi. "To me, he plays a beautiful, clean type of football, and he is a man to admire."
And everyone does indeed admire him. More than that, the whole of Turin loves him, and they always will. After 705 games and 290 goals - 188 of them in Serie A, and an entire adult life of unbelievable service, how could they not? He has truly been one of a kind. A champion on and off the field, a stalwart of many highs and a few unprecedented lows, they really don't make many like him.
Farewell Alex, and good luck. You will always, always be missed.
Follow Kris Voakes on