Videos
VIDEO: SMH talks Diego Costa, Bravo and Pogba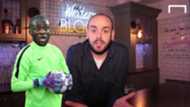 Everywhere around the world, football people are dicussing Diego Costa's Chelsea future, Claudio Bravo's repeated clangers, and Paul Pogba's new emoji!
Goal's own Peter Staunton always puts in a lot of passion when he discusses the latest football stories, shooting from the hip about every topic.
Why the new Juve logo is so important
Peter's unique takes are far too good to be kept just in the office, so Goal has released a brand new short video show, SMH, to allow him to get his feelings, rants, and praise out in the wider world.
Check it out below!
Be sure to visit Goal's Facebook page in order to make sure you don't miss any future episodes!