Paul Pogba
VIDEO: Pogba unveils new special handshake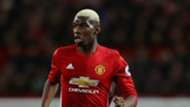 Manchester United midfielder Paul Pogba is man a many of many talents - and many handshakes.
The world record signing has unveiled his latest, teaming up with his mother in a new short clip, captioned "When Ma's in town."
Ibra: I have to score 100 goals before I can stay
The new creation is just the latest in a line of many Pogba handshakes, previously linking with team-mates Jesse Lingard, Eric Bailly and Antonio Valencia.
Watch the new Pogba handshake below!
Quand maman est là when Ma's in town pic.twitter.com/AtzWTta0Wo

— Paul Pogba (@paulpogba) February 13, 2017
Pogba is set for another family affair this week, as the 23-year-old will come face-to-face with brother Florentin when United take on Saint-Etienne in the Europa League.
The pair are unlikely to perform a special handshake during the game, with the older Pogba sibling admitting he would have no problem fouling the Red Devils midfielder.
"We're both determined players," Florentin Pogba told Telefoot. "Him and me. If he's on a run, and I have to tackle him, I'll tackle him.
"I'm not going to knock him out. But if I have to foul him, I'll do it."