Ligue 1
Verratti: The PSG fans inspired me against Barcelona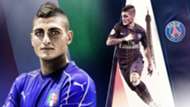 ---
EXCLUSIVE
---
What better thing to talk about before an OM-PSG game than the fans. For the first time, we had the visit of Collectif Ultras Paris at Camp des Loges on Friday during training.
Much has changed at this level since my arrival at PSG. The first year, when we were champions, we celebrated in Paris. It was an incredible atmosphere, there were supporters everywhere. But I also know that there were more difficult times that day. Despite this, it was the first time I had seen that there was a wonderful fervour around this club. Then there was a period when the atmosphere was not exceptional at the Parc des Princes. Meanwhile, as players, we were watching videos of the 1990s when it was fire. It was difficult to come to the Parc des Princes at that time.
We're starting to rediscover this 12th man at the stadium. Something has changed with the leaders, but also with the players. We made it clear to the club that it was very important for us to have supporters behind us. Afterwards, of course, we could not decide for ourselves. I really think it's hard for people to truly understand the importance of an audience on our performance. 
Facing Barcelona, I was very tired and at times I had trouble reaching some balls. But when you hear the noise of people pushing you around, it makes you want to die for them. Me, I hear the fans around me, unlike some players who say stay in their bubble. It was almost impossible to lose with such an atmosphere. In the season, there are different matches like this, that's normal. We also know that in Ligue 1, the atmosphere can hardly reach this level. It's the same for Barcelona in La Liga.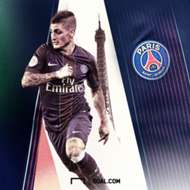 I have trouble playing in a quiet stadium. I am delighted to go to the Velodrome in front of 60,000 people who will put pressure on us. That's what I like about football. It is not difficult to play this kind of encounter because you know that winning at the Velodrome is not the same as winning in another stage of Ligue 1. 
For Marseille, beating PSG can save a season. For us, it's making our fans happy. I see them afterwards in the street when they come to congratulate us. Always with respect, it is something I love in France. In Italy, supporters are more tactile, they come straight up and hug us. I like the supporters in Paris who are always very nice and respect our privacy.
I'm really happy for them to come back to the stadium. I really think that for some it was very difficult not to be able to come and encourage us. For some, supporting PSG requires a lot of financial sacrifices. It's a lifestyle. I can understand that because when I was younger, I always went to see Pescara on Saturday in the third or second division. 
Verratti: My dream is to win in Paris, not Barcelona
After school, we ate with our friends quickly and we joined the "Curva" behind the goals. In truth, we had no choice – the other stands were for people a little older. And I wanted to learn all the songs of Pescara. These are good memories because we were all together with friends sharing our passion. 
I remember a game that if we won, we would go up into Serie B (second division). We did it, but our rivals for promotion won too, so we went into a play-off and finally managed to go up. It was extraordinary. We drove for three hours to get there. There were Pescara fans from all over.
I have a friend who has a restaurant there. He goes to all Pescara matches, home and away. There are matches where it is nine hours by car to find himself alone in the away end. It's incredible what he does. And there are some who do the same in Paris. 
The Parisians will experience a trip like this in Barcelona. I remember them in Chelsea or Arsenal in the Champions League. It was impressive to see the world away from Paris. We still need the passion though. These are big sacrifices for some and I want them to be proud of me in the end.