Euro 2016
Rooney introduces players-only meetings to England set-up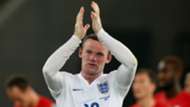 New England captain Wayne Rooney has revealed that he has introduced players-only meetings to the national set-up following their World Cup disappointment.

The Three Lions were eliminated from the competition with just a single point – taken from surprise package Costa Rica in a dead rubber.


And Rooney insists he and his team-mates are determined to put their problems behind them, and praised the nation's performance in their 2-0 Euro 2016 qualifying win over
Switzerland
on Monday night.
"We have worked hard and, to be fair, the players have taken a lot of responsibility," Rooney told reporters. "We have had meetings amongst ourselves - just players in the rooms - watching videos and discussing how we can do better as a team.
"In the meetings, you're having players speak up who wouldn't normally when coaches are there. They've been good and I think the players have really stood up (against Switzerland).
"Obviously after the (Norway) game last Wednesday it has been quite difficult at times, but we've worked hard."
Leighton Baines, who started both wins over Norway and Switzerland, insists every
England
player is taking responsibility as they seek to restore some national pride and hailed the meetings instigated by the
Manchester United
striker.
"We are not being told to do it, but there is a desire to put the onus on ourselves to leave no stone unturned and we are all keen to get back to where we want to be," he said.
"We've done that in the last week. We're all hurting from the summer and we don't want that situation again so we'll work as hard as we can to make sure we're the best we can be.
"It's not easy for the manager and his staff to implement the ideas in such a short period time. You can do a certain amount of work on the pitch but you're never too far away from a game so you have to be careful.
"The meetings are important, the videos and in this last trip the staff really put a lot more emphasis on us to speak up and give our own opinions and I think that has been really helpful.
"It just makes sense if someone has an opinion, there is not just one or two people from the group speaking. It's everyone gets to voice their opinion and they can be taken into consideration and then collectively make more of a point.
"Obviously, the final call will always be the manager's, but I think he is really open to listening to what the players have to say and taking that into consideration."