Transfers
Red Bulls and Whitecaps complete Parker for Felipe trade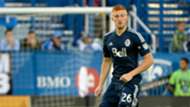 The New York Red Bulls and Vancouver Whitecaps have worked out a massive trade on the eve of the MLS season, with Tim Parker heading to New York and the Canadian club acquiring Felipe Martins, $500,000 in allocation money and a 2018 international spot. 
Parker, a St. John's University product and Long Island native, became one of the best center backs in the league in 2017, leading the Whitecaps in minutes played and netting his first career goal along the way. 
"Tim is the type of defender we look for," said Red Bulls head coach Jesse Marsch said in a team release. "His soccer knowledge, athleticism, and one-on-one defending ability are qualities that fit with what we ask of our center backs. I know he is glad to be coming home to New York, and we think he will thrive in our style of play."
Midfielder Felipe was a big part of New York's Supporters' Shield-winning team in 2016 and has been a consistent performer in Major League Soccer since coming to the league in 2012 with the Montreal Impact. 
The 27-year-old has played in at least 30 matches in each of his five MLS seasons, recording five or more assists in each season. 
"Felipe has consistently proven to be one of the best box-to-box midfielders in Major League Soccer," said Whitecaps head coach Carl Robinson in a team release. "He's fiercely competitive, very comfortable on the ball, and creative going forward. We firmly believe he's someone that will make the players around him better and we're delighted to add him to our group in the prime of his career."
The midfielder is Vancouver's 11th addition of the MLS offseason, with the club having also announced the signing of Jordon Mutch on Friday. 
The allocation money received by Vancouver will be split over two years, with the club picking up $225,000 of targeted allocation money (TAM) in 2018 with the club adding $275,000 in TAM in 2019. 
Vancouver opens its MLS season with an all-Canadian clash against the Montreal Impact on Sunday, while the Red Bulls will get some extra time to integrate Parker, with their league opener taking place March 10 against the Portland Timbers.