United States
No Bradley or Altidore for USMNT friendly against Portugal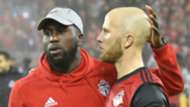 The U.S. national team's roster for its Nov. 14 friendly against Portugal is still unknown, but two big names will definitely not be on it.
Jozy Altidore and Michael Bradley will not be on the roster for the match in Europe, Toronto FC coach Greg Vanney confirmed to reporters after the MLS side advanced to the Eastern Conference final Sunday.
Vanney said Altidore and Bradley will not be called up to #USMNT

— Joshua Kloke (@joshuakloke) November 5, 2017
The international friendly will take place in Faro, Portugal, with the first leg of the Eastern Conference final set for Nov. 21. It was not expected that players from teams still alive in the MLS playoffs would be selected for the roster.
There may have been a little more doubt surrounding Altidore, who was sent off at halftime in the TFC 1-0 loss to the Red Bulls in the second leg — though TFC did advance on away goals after a 2-2 aggregate draw.
The red card means Altidore will miss at least the first leg of the conference final anyway, but there are still no plans for him to join the U.S. squad.