Perak
Mirchev determined to succeed at Perak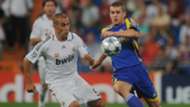 ---
  BY       OOI KIN FAI      Follow on Twitter
---
One week you're ire of the fans and the next week, you're the hero for them. That's the life of a professional footballer in the modern game.
Vladislav Mirchev knows that football will always have its ups and downs and accepts that its just part of the game. Having falied to score the penalty against PKNS two weeks ago and was substituted to chorus of boos from mass sections of the crowd, Mirchev drink in the adulation a week ago when he scored the winner against Johor Darul Ta'zim (JDT).
"I've failed before and I've risen from those failures for the team and the fans. That is football. Maybe today I'll score but in another match, I fail to score. When I failed, I take it as a lesson and continue to work hard to improve," said Mirchev in an interview on the official Perak website.
At the age of 21, Mirchev achieved something that very few would have done in their professional careers - to play in the Santiago Bernabeu Stadium against Real Madrid. The Perak import for 2017 went up against the likes of Fabio Cannavaro, Raul Gonzales and Sergio Ramos just to name a few.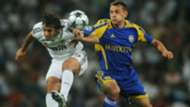 At that time, Mirchev was on loan at Belarusian club, BATE Borisov and having gone down the footballing pyramid to eventually sign and play for Perak in the Malaysian Super League 9 years later, the Bulgarian Mirchev will know a thing or two about keeping his head straight and doing the right things.
The past week has seen Perak discard Karl-Heinz Weigang and brought in Mehmet Durakovic as the new head coach. Having started to get accustomed to Weigang's ways, Mirchev will now have to do the same assimilation under Durakovic.
With the creative Toski getting increasingly fitter, the chances created for Mirchev could be increasing from game to game but scoring goals is not something that Mirchev prioritise - especially when it comes ahead of the team.
"It doesn't matter to me who scores, whether it's Pinto, Thiago, Toski or me. What is most important is the team wins," added Mirchev.
Perak are currently third in the league behind, just a point behind leaders Kedah after five rounds of matches played. While still early in the season with another 17 matches to go, the standings does indicate that the Bos Gaurus are at least in the fight for the title for the time being. At the end of the day, footballers are judged by their trophy count and Mirchev intends to add at least one more to his name.
"I hope the team can maintain the momentum until the end of the Super League season and bring home at least one trophy for Perak," said Mirchev.
Vladislav Mirchev and his Perak side next take on Felda United at Tun Abdul Razak Stadium where they will come up against a home side that also just had a change of coach.