Australia
Ryan: I think Postecoglou will stay as Socceroos coach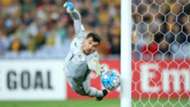 Socceroos gloveman Mat Ryan has revealed reports of coach Ange Postecoglou's imminent departure caught him by surprise and has urged him to reconsider his position should Australia qualify for the World Cup.
The former Brisbane Roar and Melbourne Victory boss will reportedly step down from the top job following the intercontinental play-offs against CONCACAF nation Honduras in November regardless of the result, according to the Herald Sun.
It has also been suggested the 52-year-old manager would have resigned last month had the green and gold secured automatic qualification for Russia.
Editors' Picks
Ryan admits it will be difficult to fathom why Postecoglou would want to leave the national set-up should they qualify, but insists the team will continue to do their job regardless of the managerial uncertainty.
"Ange Postecoglou didn't say anything to us after the game against Syria on Tuesday night about walking away from the Socceroos coaching job," he told PlayersVoice.
"When the report dropped on Wednesday that he could be stepping down from the job after the Honduras games, it caught me by surprise.

"Personally, I'd love Ange to be with us all the way to Russia, assuming we get past Honduras. I'm still thinking he's going to be there. If Ange or David Gallop tell the players something different, then I'll know, but otherwise I don't think we can start thinking about 'what's next'.

"Ange has been with us going back to the last World Cup. I find it hard to imagine that if we get through to next year's World Cup someone in his position would want to leave the team knowing we've qualified.
"Until we know for sure, I'll just keep doing what I do."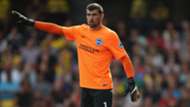 Postecoglou has been subject to immense criticism of late with many perceiving a switch in tactical formation to a three-man defence has over-complicated the Socceroos' road to next year's showpiece.

Amidst suggestions the tactician has grown frustrated with his detractors, the Brighton and Hove Albion custodian has leapt to the defence of his coach, slamming the criticism of Postecoglou as 'unfair'.

"Criticism and praise come and go in football and I don't pay too much attention to any of that, but Ange has copped a lot of criticism about our tactics and playing style. In my opinion, that's been unfair," Ryan said.
"I've always loved Ange's approach, the way he doesn't see Australia as an underdog and how he asks the question, 'Why can't Australia do great things in the football world?'
"I agree with him. That's how you've got to be. That's the right attitude.
"People criticised us when we went to three at the back during our World Cup qualifying campaign. They're wrong. It's part of football adjusting to team tactics and obviously a coach requires the team to be adaptable.

"The style we're playing is designed not just to get us to the World Cup, but to get there and make some noise and be competitive at that level.

"I've got full faith in what Ange does and the direction he has taken for us as the national coach."
It comes as The Covert Agent exclusively revealed Postecoglou, who has recieved offers to coach from England, Belgium and Greece, has been unsettled since September 2015 over Football Federation Australia's management issues as well as its lack of understanding for the game.