Manchester City
Man City prankster Mendy vows revenge on rival Walker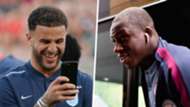 Benjamin Mendy has vowed to reclaim the lead in his social media battle with Manchester City team-mate Kyle Walker.
The Frenchman has earned a reputation as something of a prankster following his £52 million move to the Etihad Stadium over the summer.
Spurs 15/2 to beat Huddersfield 2-1
Nobody, it seems, is safe from ridicule by the 23-year-old full-back.
Among those to have been targeted is City colleague Walker, with the England international trolled for a theatrical tumble in a Premier League meeting with Liverpool.
Someone please find the sniper in the stands !! Hahaha @kylewalker2 u ok boi ?! pic.twitter.com/0BNIUbrTNI

— Benjamin Mendy (@benmendy23) September 9, 2017
Walker was quick to get his revenge on Mendy, with an unfortunate nutmeg during a Champions League meeting with Feyenoord highlighted for the world to see.
While it would appear to be honours even in the banter stakes at present, Mendy has warned that he already has something else up his sleeve.
He told The Telegraph : "Every time I get in my car I sit and sift through pictures and I saw that one of Kyle looking like he'd been taken down by a sniper against Liverpool.
"So I stuck it on Twitter but then Kyle got me back. I got nutmegged against Feyenoord in the Champions League so he put a picture of that out and told me, 'There you go. 1-1. Right back at you'."
Pressed on whether he will make the next move, Mendy said: "Yeah, but, ssshhh, don't tell him!"
For now, the former Monaco man is more concerned with his presence on the upcoming FIFA 18 release.
Mendy has already questioned his rating on the EA Sports simulator, but has now turned his attention to his likeness.
He said, after being given a score of 78: "Maybe I'm 82, 83 now.
"Some friends called me up and said, 'Look at the face you're pulling, you look like Emile Heskey!'"
Ahaha you dont have TV last year @EASPORTSFIFA ?? 78 really ?!! 🤷🏾‍♂️🤷🏾‍♂️🤷🏾‍♂️ pic.twitter.com/SurU939kL4

— Benjamin Mendy (@benmendy23) September 14, 2017
Mendy has helped City to enjoy a productive opening to the 2017-18 campaign, with Pep Guardiola's unbeaten side currently topping the Premier League table by virtue of alphabetical order ahead of arch-rivals Manchester United.