World Cup
Hope Solo hopes 2026 World Cup doesn't go to USA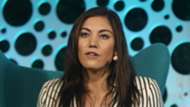 Hope Solo has declared her opposition to the United States' bid for the 2026 World Cup, arguing it is undeserved due to its federation's failure to live up to FIFA statutes.
The U.S. is partnering with Canada and Mexico in a united North American bid for the three nations to host the 2026 showpiece.
Originally seen as the favorite to land the competition, the North American bid has received a challenge from Morocco, the only other country vying for hosting duties.
FIFA's member nations will vote for the 2026 host on June 13 at the FIFA Congress in Moscow, and while Solo is not necessarily convinced Morocco is deserving either, the former U.S. women's team goalkeeper is firmly against the prospect of the U.S.-led bid winning.
"I can't say it should be awarded to Morocco," Solo told The Associated Press, "but I don't think it should go to the United States, and that's hard to say."
The record-holder for caps among American goalkeepers with 202, Solo's major contention is over how the U.S. Soccer Federation is run – something she tried to change when she ran for USSF president earlier this year. Ultimately, Solo finished fifth after multiple rounds of voting.
Among Solo's complaints is a lack of promotion and relegation in Major League Soccer, which the league has declared necessary for growth and stability, but FIFA strongly encourages. 
"That is not helping the sport in America," Solo said. "I want to see promotion-relegation in the NASL and the MLS. Right now it's true, you have rich ownership groups owning MLS teams and they're only getting richer and they're alienating everybody else.
"A new ownership group can't just come in and purchase a team even though they have the financial security, even though they have the commitment. It's controlled by those single individuals at Soccer United Marketing, MLS in particular, [commissioner] Don Garber."
Previously, Solo has had her run-ins with the USSF over equal pay for women's players and has accused the federation of firing her because of complaints she lodged over use of her likeness without compensation.
She has also filed a claim against the USSF with the U.S. Olympic Committee, accusing the organization of violating U.S. law by enriching its pro teams over its youth and amateur sides.
Solo hopes that FIFA can intervene, potentially using the World Cup as leverage to finally fix many of these issues.
"Hopefully FIFA can stand up and step in and say, 'If we're going to reward you, let's look at everything and point out where you can fix certain things,'" Solo said.