United States
Gulati: U.S. expected to qualify for World Cups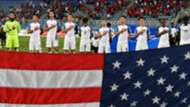 KOLKATA, India — While U.S. Soccer president Sunil Gulati says he is "very disappointed" about the men's national team missing out on the 2018 World Cup, he is pleased that his nation is at the point where it is expected to qualify for the world's largest soccer competition every four years.
"There is no guarantees that anybody makes the World Cup but we have got to a point that it is expected," Gulati told Goal at the Under-17 World Cup final. "It is good that expectations have risen, but we will look at all those things now and plan to make sure we are in Qatar."
After playing in every World Cup since 1986, the U.S. failed to qualify for next summer's tournament in Russia. The Americans entered the final match of the Hexagonal round in Trinidad & Tobago needing a win or draw to ensure their place. A loss or tie from either Panama or Honduras would have also kept them in contention.
But nothing went right for the Stars and Stripes, as they suffered a 2-1 defeat and watched both Central American nations celebrate victories. It was an extremely unlikely result for the U.S., which entered Trinidad & Tobago coming off a 4-0 win over Panama just four days earlier.
"Listen, we went into the last game needing a draw against Trinidad and either of the other two games going against our favor. So the chances of all the three things happening at once were less than five percent," Gulati pointed out.
"Unfortunately, all three things happened and I am not going to pinpoint one particular reason. We did not play well enough in the last game and we dropped some points early. So in the end, it did not go our way."
However, the future still looks bright for U.S. Soccer thanks to strong showings by the youth national teams in 2017. The Americans advanced to the quarterfinals in both the U-20 and U-17 World Cups, with England being the only other nation to make it as far in both tournaments.
"We are optimistic about our future," Gulati said. "There are only two teams that were in the quarterfinals of both the U-20 and U-17 World Cups — England and the U.S. England won one and is playing in the final of the other.
"We are hopeful but we are still not quite at the level or have that edge to play in the final. We have quite a few talented players and we have got to integrate them with some of the more experienced players and win games."