Manchester City
Guardiola praises Ederson's freakishly long goal kicks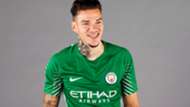 Pep Guardiola says new goalkeeper Ederson will help Manchester City score more goals thanks to his long goal kicks.
City paid Benfica £35 million for the Brazilian this summer as they believe he has all the attributes to establish himself as No.1 following Claudio Bravo's early struggles at the Etihad Stadium.
The 23-year-old has the ability to launch a dead ball nearly 100 yards towards the opposition penalty area, and given players cannot be offside from goal kicks City are now able to open up new avenues of attack.
Ederson played Sergio Aguero through from a goal kick during City's 3-0 win over Tottenham in the International Champions Cup on Saturday, though the Argentine hit the inside of the post.
Guardiola says he first noticed Ederson's special talent when his Bayern Munich side faced Benfica, and he believes City will benefit in the coming years.
"He has this quality, in the goal kicks when the opposition makes high pressing and it's complicated now we have the chance to put the ball in the other box, and of course we have a little bit more space in the middle," Guardiola said at a press conference. "And of course he created a good chance for Sergio to score a goal.
"When I was at Bayern Munich we played Benfica in the Champions League and he was there, and when we tried to analyse them we saw it four or five times and we organised a meeting to say 'Guys, what's the matter? What is that?'.
"We tried to work about that because he has this quality to put the ball in the other box and it's not offside. We spread out the opponents and we can have more space in the middle."
Guardiola also insists that Bravo will still have the opportunity to play regularly for City, despite Ederson's arrival this summer and his promising start to life at the club while Bravo is recuperating following the Confederations Cup.
Man City smash Spurs in Nashville
Bravo lost his place to Willy Caballero towards the end of last season but Guardiola says he never doubted the Chilean's ability.
"He's our goalkeeper, he will be with us, get fit and after I will decide," the Catalan added. "Like last season sometimes I played Willy and then I played Claudio and then I played Willy and after it was Claudio. I will see what is going to happen. I do not decide what is going to happen, I learn that from my nine years as a manager. I have an idea, and after I go to the training sessions and I have a look, I watch my players.
"Claudio is a captain of a national team who never used to [win] anything special, and I know how important he was in the two Copa Americas and the final of the Confederations Cup.
"I never had doubts about the quality of Claudio, but we decide now to buy Ederson. He [Ederson] shows us amazing things in this period, not just the goal kicks but also he saves a lot of balls and how quickly he closes the space for the strikers. Always with his feet he decides well, with the long and the short, he reads the decisions well, that's why I wanted him because to compete at the high level we need two excellent goalkeepers, if we don't have that, we can't."