Ghana
Ghana fall on first Fifa Ranking for 2017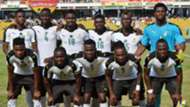 Ghana have moved down by a place to 54th on the first Fifa Ranking of the New Year released on Thursday.
The January table leaves Ghana between Burkina Faso (53) and Israel (55), with a decrease in total accumulated points by one.
On the continental level, the Black Stars still occupy the ninth position above Morocco (57).
Senegal (33) still hold the lead, while Cote d'Ivoire (34), Egypt (35), Tunisia (36), Algeria (39), Congo DR (49), Nigeria (50) and Burkina Faso (53) follow in that order.
The Black Stars, who placed 33rd in January last year, lost 2-0 to Egypt in November in their last assignment till date.
Back on the world ranking, there was no movement among the top 34, with Argentina, Brazil, Germany, Chile and Belgium comprising the top five in that order.
Colombia, France, Portugal, Uruguay and Spain, in that order, complete the top 10.
Ghana's highest ever performance since the ranking's introduction in August 1993 remains a 14th place in February 2008, while their worst placement was an 89th position in June 2004.
The Black Stars are set to return to action on Tuesday when they face Uganda (73) in the group opener at the 2017 Africa Cup of Nations in Gabon.
The next edition of the ranking will be published on February 9.