Transfers
Ex-Chelsea defender Mancienne joins New England Revolution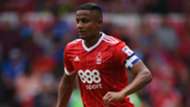 Michael Mancienne has joined the New England Revolution on a free transfer from Nottingham Forest.
The former Chelsea defender will team up with former Tottenham and USA goalkeeper Brad Friedel, who is head coach of the MLS side.
After three seasons in the Championship with Forest, playing over 100 games in all competitions, the 30-year-old says he could not resist the move to the United States despite receiving offers to stay in his homeland.
Editors' Picks
"It was just an exciting opportunity," Mancienne told his new club's website.
"It was something that I couldn't turn down. I had obviously other options in England, but to be honest this was something that was amazing. I think it's beautiful."
The prospect of working with Friedel was a big draw for the centre-back and is hoping to take a key role once he joins his new team-mates after his visa is granted.
"[Friedel] is a massive name. He's had a great career. He's got bundles of experience, so I'm really looking forward to working underneath him, to learning from him and hopefully doing really well for him," the ex-Hamburg player added.
"I think obviously [I'm expected] to be a leader at the back. I'm used to that. I've captained many sides in my career so I'm looking forward to the challenges, and I just can't wait to get started."
Revolution are currently sixth in the Eastern Conference and continue their campaign with a visit to Orlando City on Saturday.