WTF
Campbell praises 'Butthead' Gayle after Newcastle promotion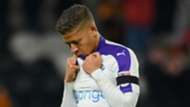 Crystal Palace forward Fraizer Campbell has hailed former team-mate Dwight Gayle for winning promotion to the Premier League with Newcastle United but has teased his former strike partner in the process.
Gayle played alongside Campbell at Palace before joining Newcastle, and his 22 goals this season have helped the Magpies return to the top flight of English football.
Xavi tips Man City to make big Alli bid
Campbell shared his delight on Instagram, with the caption "Congrats on your promotion brother well deserved @dwightgayle", but the accompanying picture was less complimentary, comparing the 27-year-old striker to MTV's Butthead from the classic 1990s Beavis and Butthead television show.
Newcastle's 4-1 win over Preston North End on Tuesday guaranteed them at least a second-place finish in the Championship, ensuring they are promoted automatically along with current leaders Brighton & Hove Albion.
Gayle may have had an incredible scoring season for Newcastle, but even with all those goals, he still ends up being the butt of all the jokes!