Camilo Sanvezzo
Camilo frustrated with lack of goals at Queretaro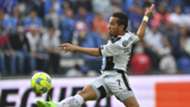 He's the only player to win the Golden Boot in both Major League Soccer and Liga MX, but right now Camilo Sanvezzo can't find the back of the net.
The former Vancouver Whitecaps forward, who left MLS to join Queretaro, scored seven goals in the Apertura but hasn't found a goal since Nov. 20, 2016 and is growing frustrated as he looks to score for the first time in the Clausura.
NYCFC signs Yangel Herrera on loan from Man City
"I'm working to get to the level I had before, but I'll be honest, I'm not in the best form. I'm a forward and I live for goals," he said. "Of course there is desperation, but I'm staying calm and working day by day to get better."
Queretaro could use the scoring help. The Gallos Blancos have scored just three goals in six matches this tournament, sitting four spots from the bottom with last weekend's win against Leon the first triumph of the tournament.
Queretaro will face a stern test this weekend with a trip to Necaxa on the slate. But the 28-year-old forward said new Queretaro coach Jaime Lozano will make sure his team employs an attacking style of play against a Necaxa side known for sitting back and relying on its back four.
"We should attack. Knowing Jaime, I think he's going to want us to have the ball because without the ball they don't have any way to attack us," Camilo said. "Little by little we're understanding what the manager wants. We're already creating more chances, getting forward more. The guys at the back are joining in, and this is helped us out a lot. Hopefully we can, game by game, play more. Now, seeing more of the ball is easier."
Necaxa hosts Queretaro on Saturday with both teams currently sitting outside the top eight, the playoff positions.