United States
With World Cup closing in, SheBelieves Cup takes on added importance for USWNT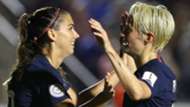 The U.S. women's national team shouldn't have much trouble getting out of their group at this summer's World Cup in France.
Thailand, Sweden and Chile will be the opponents in Group F. The top-ranked Americans are expected to breeze through and reach the tournament's last 16, where the stakes and the competition will be raised considerably.
For Jill Ellis' team, the SheBelieves Cup, which kicks off Wednesday against Japan in Chester, Pa., won't be the last test before the World Cup, but it will be the biggest and the most reminiscent of the tournament's knockout stage.
And that's why the SheBelieves Cup will take on added importance this time around in comparison to recent years, when it served more as three glorified friendlies.
After taking on Japan, the U.S. will travel to Nashville to face England on Saturday before heading to Tampa to close out the tournament against Brazil on Tuesday.
The variation in style and overall quality of all three teams the U.S. will face make this tournament an ideal tune-up.
"It's exactly how we want these teams in here because they're so unique," Ellis said at her press conference on Tuesday.
"Each team has a unique skill set and obviously I think for us we're going to take it one game at a time but I think what we also look at is what common things do these three teams have and what things do we need to sharpen."
1️⃣0️⃣0️⃣ DAYS TO GO
Retweet to bless a timeline. pic.twitter.com/W3BDdAzjtB

— U.S. Soccer WNT (@USWNT) February 27, 2019
If the U.S. wins Group F this summer, they'll have a round of 16 match in Reims on June 24, before a potential quarterfinal in Paris four days later and then a possible semifinal in Lyon four days after that.
The SheBelieves Cup, then, will be a very similar approximation of what the U.S. would face in terms of travel, recovery time between matches, and quality of opposition in the 2019 World Cup knockout phase.
"You can kind of replicate from the travel and there's a trophy on the line, albeit sort of a made-up trophy, but to try and replicate like every game matters and points matter and goals matter," U.S. winger Megan Rapinoe said.
"So I think [for] the players who haven't had a lot of experience in tournaments, this is a good opportunity for them to at least try to replicate what it's like to be in a World Cup, because it's hard to do that any other way."
After the SheBelieves Cup, the U.S. will have just five games remaining before the World Cup kicks off and only one of those five opponents, Australia, is in the top 10 of FIFA's world rankings.
The chance, then, to play three top-10 teams in quick succession over the course of the next week is not one that the U.S. is taking lightly.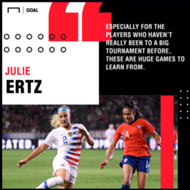 "It's been amazing to be able to continue and grow and get that experience against those kinds of teams, especially for the players who haven't really been to a big tournament before, these are huge games to learn from," midfielder Julie Ertz said.
There is a chance, of course, that the U.S. could end of facing one of its SheBelieves Cup opponents in the World Cup knockout stage. It's why, as Ellis said, all four managers likely won't want to give too much away in terms of how they'll look to exploit their opposition.
"I think we take this tournament seriously every year in terms of good teams and wanting to win it, but I think every coach in here recognizes the opportunity here to probably not show their full hand," Ellis said.
Though she may not give everything away in terms of tactics, Ellis will still want to win all three games and lay down a marker, especially with the U.S. having seen a 28-game unbeaten run snapped last month with a loss at France, before bouncing back with a win at Spain a few days later.
"This is only our third game of the year so we're still putting some things together," forward Alex Morgan said, "but these games are important, especially this first game against Japan because I feel like the first two games of the year against Spain and France we weren't exactly 90 minutes fit.
"I think this is the first true test for us with the training environment we put ourselves in this last week we all should be 90 minutes fit and prepared for this game."
It may be a few months before the real tests begin, but If the U.S. wants to lift its second straight World Cup this summer, there will be no better dress rehearsal than the three matches it faces over the next week.
"Part of it is just going through and taking every day as it comes and using these games and realizing that they're not the World Cup final, so there's obviously a lot that we have to work on and can work on," Rapinoe said.