Africa Cup of Nations Qualification
Kenyan coach Sebastien Migne explains why Victor Wanyama was substituted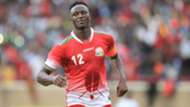 Harambee Stars coach Sebastien Migne will have to wait for the medical reports to know the extent of the injury suffered by Victor Wanyama.
The Kenyan skipper was pulled out in the second half as Stars' hammered Ethiopia 3-0 during the Africa Cup of Nations Qualifier played on Sunday.
Wanyama had just scored Kenya's third goal from the spot, but pulled what looked like a hamstring injury later on. With Kenya enjoying a solid lead, Migne did not take chances with his skipper, who was returning from a long injury spell with Tottenham Hotspur.
"We were leading and he had done everything to take the team to the Afcon finals so I didn't want to take chances. It was the right thing to do," Migne told Goal.
The Frenchman says that the former Scottish giants Celtic and Southampton midfield star, will have to be assessed by the local medical team to determine the extent of the injury.
"We have a great medical team, they will assess him further but I am yet to get their report, I hope it's nothing serious."
Kenya, who are top of Group F with seven points, just need one point to book a place into the 2019 Afcon finals in Cameroon. Kenya will next face off with Sierra Leone at home before winding up the campaign against Ghana away.