Bengaluru
ISL 2018-19: Bengaluru FC rope in Kia Motors as title sponsors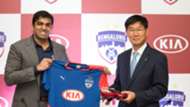 Bengaluru FC have announced a landmark partnership with automobile manufacturing giants Kia Motors.
This partnership sees the two-time I-League winners join an elite list containing the likes of FIFA, UEFA Europa League and Australian Open which are included in Kia's global sports sponsorship portfolio.
Kookhyun Shim-CEO and MD, Kia Motors India and Parth Jindal (CEO, Bengaluru FC) graced the occasion as the two parties signed a Memorandum of Understanding (MoU) for a four-year partnership. This partnership means that the KIA Motors will be the club's principal sponsors till the end of the 2021-22 season.
Kia's India brand launch is scheduled for June 2019. Kookhyun Shim- CEO and MD, Kia Motors said, "We at Kia, are as passionate about sports as we are about our world class cars. Our past and current partnerships with different sporting championships across the world are a clear sign of our enthusiasm for sports.
"As we extend this legacy to India, we aim to foster and inspire youngsters in the country to become a part of the global sports community. We are proud to associate with one of the most consistently successful teams in the ISL – Bengaluru FC, and we look forward to an excellent season with memorable experiences for millions of football enthusiasts throughout India."
Bengaluru FC CEO Parth Jindal said, "Bengaluru Football Club's partnership with Kia is a historic association in Indian football. Kia has a rich background of partnerships with sports including a host of world-class sporting events and teams.
"For Kia to choose Bengaluru FC as a medium to announce its presence in India is a matter of pride for the club and is also a big testament to the fan culture that the team and the city have created. The JSW name that the club wore with pride, is now entwined in Bengaluru FC. Now, with Kia alongside us, we are looking forward to doing great things to grow the sport in the country."
The Kia logo will feature on the front of the Bengaluru FC jersey with immediate effect and the club will be debuting the new look against Jamshedpur FC on October 7.