Indian Super League
Indian Super League: Bengaluru FC's decision highlights the plan for the future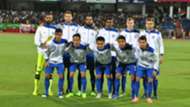 Let's just say Bengaluru FC have been among the shrewdest or the most prudent team in India. They have maintained from day one of their decision to ply their trade in a league on winning which they will have the opportunity to represent the nation in the continental competition.
"If you tell me that 'X' league will become the main league of the country, we would like to be a part of it. We want to have a chance to represent the country at Asian level," said Mandar Tamhane, Chief Technical Officer (CTO) of Bengaluru FC, last year.
ISL to get recognition from AFC
With the Asian Football Confederation (AFC) set to allot an AFC Cup berth to the Indian Super League (ISL) winner later this month, Bengaluru FC tilting towards the three-year-old competition is obvious.
Although the I-League champion would have the opportunity to compete in the Asian Champions League (ACL) play-off, it would be fair to state that the standard of the Indian clubs hasn't yet reached the level where they can qualify or be in the running to make the cut into the group stages.
In that case, the I-League winner too would eventually end up playing in the AFC Cup (after failing to qualify for the ACL group stage), just like their ISL counterpart and be placed in the same cluster as has been the case with Mohun Bagan and Bengaluru FC this season.
Bengaluru FC pick up the Invitation to Bid document
So Bengaluru FC's only reason to stick with the I-League and not opt to join the ISL bandwagon has been wiped out. So in that case, essentially participating in the I-League or the ISL would lead to the same reward of competing in the AFC Cup.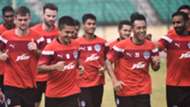 Given that the ISL has captured the imagination of fans as it has become the third most attended football league in the world in the three years of its existence and the manner in which it propels the profile of the club owners makes it an attractive proposition.
Stephen Constantine: ISL, I-League running parallely is best for India
ISL enjoys top quality broadcast in multiple languages which not only opens new markets for football but also adds a lot of value for clubs when on the lookout for potential brands to associate with.
Although they still have to go through the Invitation to Bid (ITB) document in detail, evaluate and then decide to put in a bid, which would then be assessed, Bengaluru FC's decision to move towards the ISL is a sign of the times to come.