African All Stars
Hull City's Moses Odubajo hopeful of better 2018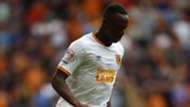 Hull City's Moses Odubajo is optimistic that he will bounce back from the injury setback that has put his career on hold.
The right-back suffered a knee injury in a pre-season friendly against Grimsby Town in July 2016 and despite efforts to return to the field of play twice last season, he has been met with setbacks.
Prior to being injured, the Anglo-Nigerian was a consistent fixture for the Tigers featuring in 53 games in the 2015-16 campaign to help them earn a promotion to the English Premier League.
But the defender could not play a single match in the top-flight owing to injury and after a poor outing, the Yorkshire outfit returned to the second division.
However, the former Brentford man who hopes to return to action in February is confident of a better outing next year having overcome a 'year of challenges'.
"I'll look back at it as a year of challenges but challenges that I've overcome. I feel like 2018 is definitely going to be better," Odubajo told Hull Daily Mail.
"The last 12 months have tested me a lot, mentally and physically but I know that 2018 is just around the corner. I can only look forward.
"I used to think about the Grimsby game a lot but there's not much I can do about it now. I can't turn back time. Nothing good is going to come from me sitting there and thinking back to it.
"There've been days when I've thought to myself 'What else can I do?' or 'What should I have done differently?' but that's life. I've got the right people around me. We're moving forward and making progress all the time.
The 24-year-old acknowledged that he has not been watching matches regularly to avoid mental torture but now that his comeback is near he has vowed to return to the Stadium.
"I've missed it quite a bit to be honest. I took a step back for the love of it, to begin with. It would beat me up if I wasn't out there playing so I didn't use to go to the games as much" he continued.
"Now I'm on the verge of coming back, I need to get back into the groove watching games. I feel like the love of the sport is coming back.
"I came close to a comeback twice last season. The first time was just before Christmas and then there was a setback, then I came close again towards the end of the season and there was another setback. We had to push everything back at that stage.
"In the summer I was literally told to do nothing. I was told to let my knee rest and let the bone fully heal.
"That was really frustrating. I was on crutches and in a brace through the whole of summer and for the start of the season. That was a different summer to one I've ever had before. This time we've been extra cautious, following all the steps.
"I dislocated my kneecap the first time but the complication for the second and third time was the kneecap fracturing."