Liverpool
Wijnaldum: Salah blow rocked Liverpool against Real Madrid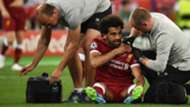 Georginio Wijnaldum has admitted that the "big blow" of losing Mohamed Salah to injury contributed to Liverpool's struggles in the Champions League final.
The Reds entered a meeting with Real Madrid confident that they boasted the attacking firepower to end an era of European dominance by the Blancos.
A bright start bode well, but 44-goal talisman Salah was forced off inside half-an-hour and Jurgen Klopp's side never really recovered.
Two mistakes from the unfortunate Loris Karius ultimately cost them dear, but the sight of their Egyptian forward heading off in tears also saw heads drop and allowed Madrid to rise to the occasion as Gareth Bale inspired them to a third successive continental triumph.
"With Mo Salah we are a better team," Dutch midfielder Wijnaldum told Liverpool's official website.
"[He makes it] easier for the other players in midfield and up front and also the defence, because defensively they have to think of him because he's a really dangerous player. 
"When he went out it was one problem less for them, so I think it helped them and it didn't help us.
"We started well, the first 30-35 minutes I think we did a great job and stopped them from playing and everything. We created a few possibilities to score a goal, but I think after the injury of Mo it was really difficult for us. 
"It was a big blow for the team, but we still managed to go to half-time at 0-0. Then in the second half, we were 1-0 behind. We came back really quick and then a wonderful goal from Bale, and then the third goal was really hard for us."
While Liverpool were left frustrated with their efforts in Kiev, they are rightly proud of a European adventure which carried them to within touching distance of the crown.
They have earned plenty of plaudits through their attacking brand of football, with the likes of Salah, Sadio Mane and Roberto Firmino generating plenty of positive headlines.
"Yes of course I'm proud of what we achieved, of how we came to the final, but if you come to the final you want to win it and the farther you come in the tournament the bigger the disappointment will be – especially in the final, if you lose it the disappointment is really big," added Wijnaldum.
"I'm really devastated, but if you compare it to what we did this season, I think we can be proud that we came to the final and hopefully we learn off it and take it to next season."