MLS
Who will win the MLS Cup final?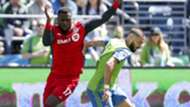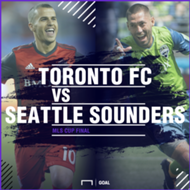 IVES GALARCEP: Toronto FC 3-2 Seattle Sounders. Expect TFC to come out flying at home behind the attacking duo of Sebastian Giovinco and Jozy Altidore, while Sounders coach Brian Schmetzer is savvy enough to keep his side competitive in what should be a dramatic thriller.
JON ARNOLD: Toronto FC 2-1 Seattle Sounders. Both teams should be able to get a shot on goal this year, and in another contrast TFC should win this time around. Even if it wasn't clicking all fall, that attack poses too many threats to be held off the board again.
THOMAS FLOYD: Toronto FC 2-1 Seattle Sounders (extra time). Yes, the Sounders are packed with talent and perhaps playing their best soccer of the year. But TFC has assembled one of the greatest teams in MLS history, and it's tough to see Giovinco and Co. coming up short at home two years in a row.
ALLEN RAMSEY: Toronto FC 1-2 Seattle Sounders. This will not be a replay of last year, with both sides ready to bring goals, but Seattle's defense will do enough to let the Sounders take another trophy home
MIKE SLANE: Toronto FC 2-0 Seattle Sounders. This will be the year Toronto brings home its first MLS title. Although the playoffs have been more difficult for the Reds than expected after a record-breaking regular season, they have perhaps the best squad in MLS history — with Altidore, Giovinco and Michael Bradley leading the way — and will coast past the Sounders at home.
SETH VERTELNEY: Toronto FC 2-1 Seattle Sounders. It hasn't been easy for TFC this postseason, this side has faced considerably more difficult opposition than Seattle has. Toronto is facing all the pressure, but its attack will prove to be too much to handle for a Seattle side that is likely to take a cautious approach at BMO Field.
BEN VALENTINE: Toronto FC 2-1 Seattle Sounders. While it's probably too much to expect Toronto to return to its high-flying ways of the summer, this club has shown the ability to grind out victories over the course of the playoffs. At home once more — with a chance for payback a year in the making, and with the added firepower from having Victor Vazquez this season — TFC will do just enough to hoist the MLS Cup.