Arsenal
Wenger: Referees target Xhaka but his tackling is poor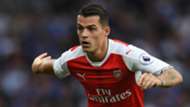 Arsene Wenger believes Granit Xhaka "is a victim of his reputation" which leads to him collecting red cards.
'Wenger wants to be carried out of Arsenal in a box'
The Arsenal midfielder has been sent off twice in the Premier League this season, taking his tally over the last three years up to nine.
The Switzerland international also has three yellow cards to his name and Wenger feels referees are quick to punish him.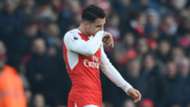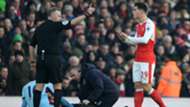 "I believe that he is now in a position where on the first foul he gets a yellow card. For example on Saturday [against Lincoln in the FA Cup] - first foul, soft yellow card," he said on Sky Sports.
"So he is a victim a little bit of his reputation. You see tackles of some players who are much worse than what he did who don't even get a yellow card and he got a straight red and because he had a history of that in Germany I think he is a bit of a victim of that.
"Overall he is quite in a positive way, he masters himself much better. He was maybe a little bit before looking too much to impress but overall he has to stay on this ground because it is tackling that can get him sent off. When he defends well, staying on his feet he is a fair player."
While he feels his reputation puts him at a disadvantage, the Frenchman acknowledges that his tackling style still needs work.
"The way he tackles is not to hurt people, it is more the consequence of the fact that he doesn't master well the technique of tackling," he added.
The evolution of Gini Wijnaldum
"He has improved a lot since he has arrived I think but he still has to work, yes, on his one against one - you can always improve."
The Frenchman dismissed suggestions that Xhaka should be seen as Arsenal's version of N'Golo Kante, who is starring at Chelsea. Instead, Wenger says Francis Coquelin fills that role.
"They are different types of players. I think Xhaka is more in the distribution of the pass through the lines and Kante is more the ball winner with the real technique to steal the ball without making the foul.
"You compare more Kante with Francis Coquelin than with Xhaka. Xhaka is more a distribution player."