Petr Čech
WATCH: Will Petr Cech save Arsenal from a United drubbing?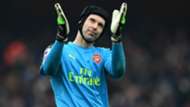 It has been the marquee fixture of the Premier League era but this time it's a battle between two clubs going in opposite directions. 
On Sunday at the Emirates Stadium, Arsenal welcome Manchester United at a time when the Gunners' season is crumbling. Last weekend's 2-0 defeat to rivals Tottenham Hotspur confirmed Arsenal will finish below Spurs for the first time in 22 years, and it could have been far worse if not for Petr Cech. 
The Arsenal goalkeeper produced a series of fine saves at White Hart Lane, and in the month of April was forced into a save every 17 minutes as Arsene Wenger's men have faced a barrage from opponents. 
Cech leads all Arsenal players across the last five games in the Goal Pressure Index, presented by Sure and powered by Opta data, which provides the first ever system to measure and rate a team and player's performance under pressure.
The Goal Pressure Index uses more than 750,000 data points as well as factors including league position, point in the season and the opposition to calculate a rating out of 100 for every Premier League player every week.
Aiming to beat Cech this weekend will be a United side who are currently on a 25-game unbeaten run in the Premier League. Jose Mourinho's side also claimed a crucial victory over Celta Vigo in the UEFA Europa League on Thursday, and so far in 2017 have won five of their six domestic games following a midweek European outing.
Further up the table, Spurs will be looking for the on-fire Christian Eriksen to propel them to within touching distance of Chelsea when they tackle West Ham United on Friday. 
Eriksen leads the Goal Pressure Index form guide and is the first player to 20 assists in all competitions this season. 
The Goal Pressure Index is presented by Sure, Official Partner of Chelsea FC, Everton FC and Southampton FC. Join the conversation on Twitter @Sure.