Videos
VIDEO: Fans clamour for a glimpse of Neymar in Paris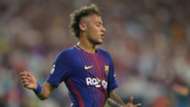 Neymar has arrived! 
The 25-year-old Brazilian is in Paris and has arrived at his hotel, where a throng of fans were waiting to cheer for their new €222 million star. They spotted one Brazilian superstar entering the hotel, shouting "Dani" as compatriot Dani Alves entered with his wife Joana Sanz.
Fans waited late into the night to greet Neymar, singing and dancing on the streets in the hope of getting a glimpse of the world's most expensive player. 
Neymar will wear the No. 10 jersey at PSG, following in the footsteps of Zlatan Ibrahimovic.