WTF
VIDEO: Alberth Elis puts on panther mask to celebrate goal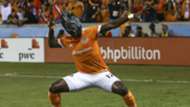 Forward Alberth Elis decided to have a little fun after netting his 10th goal of the season for the Houston Dynamo. 
The Honduran nodded home a header to put his side 1-0 up in the 70th minute, and he clearly planned on scoring because the props were ready to come out. 
┈┈╱▏┈┈╱▏
┈╱▕▁▁╱▕
╱┏┳╮╭┳┓╲╱╲▁
▏╰┻┛┗┻╯▕╱╲╱
╲┈┈▽┈┈┈╱╲
┈╲╰┻╯┈╱╲┈╲
┈▕┈┈┈┈╲╱ ┈╱
┈▕┈┃┈▏ ┈╲╱
┈▕┈┃┈▏ ┈▕
┈╱┈┃┈ ╲┈▕
┈▔▔▔▔▔▔▔ https://t.co/R0tvXrN1Mt

— Wakanda Panthers (@HoustonDynamo) October 1, 2017
Elis, who is nicknamed La Panterita, or "The Little Panther," donned a panther mask to celebrate his strike. 
Houston went on to take a 2-1 win over Minnesota United, with Romell Quioto putting the home side 2-0 up in the 85th before Sam Nicholson pulled one back for the Loons in stoppage time. 
The win leaves the Dynamo still clinging to one of the final playoff spots in the Western Conference.