United States
U.S. Soccer hires sports science guru from Premier League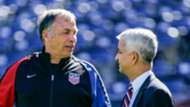 U.S. Soccer has announced the hiring of James Bunce as the federation's first-ever high-performance director
Bunce, 31, joins after serving as the Premier League's head of performance — a role in which he was responsible for supporting performance departments across the league. He will work with U.S. men's and women's programs from U-14 teams all the way up to the senior sides. 
"I am honored and humbled to join U.S. Soccer," Bunce said in a news release. "The federation is an organization that continues to dedicate the right resources to high performance and development growth. I am looking forward to getting started and confident that we will be able to accelerate U.S. Soccer's ability to develop world-class players, coaches and referees." 
Ranking the USA's left-back depth chart
Bunce began his career as a strength and conditioning coach and then the head of athletic development for Southampton, a club renowned for its youth development. 
After leaving Southampton, Bunce became head of sports science for the Premier League. In that role, Bunce introduced and developed the first nationally required accreditation for sport scientists in soccer within the UK.
"We are adding a world-class level sports performance expert to our staff," U.S. Soccer director of sport development Ryan Mooney said. "James possesses the right balance of theoretical and practical experience that we are confident will lead to an acceleration across all of our player development initiatives."