Manchester City
'He's a good listener, a silent leader': The other side of Man City record-breaker Sergio Aguero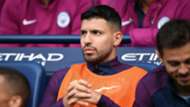 There are certain things everybody knows about Sergio Aguero; his dribbling ability, his low centre of gravity, his sheer knack for scoring goals. Off the pitch, however, very little is known.
The Argentine is now Manchester City's all-time leading scorer, with his goal against Napoli taking him past Eric Brook's tally of 177. It is a record that stood for 78 years and took 11 years to set. Aguero has broken it in little over six.
Aguero to score two or more v Arsenal 2/1
He has responded to all the challenges set for him by Pep Guardiola over the last year or so, adding new dimensions to his game while scoring even more goals in a single season than he managed under either Roberto Mancini or Manuel Pellegrini.
Yet for all his talent and his position as one of the game's very best players, he is in something of a unique position: he neither seeks nor is afforded much attention.
"Many players concern themselves with being recognised as one of the world's best, and he doesn't," Fernando Signorini, who has worked with the striker throughout his career, tells Goal .
"And that's fantastic to me because despite that he still keeps looking for new things, coming up with new things, he keeps challenging himself to be better every day, not necessarily to be the best, but to be the best that he can be. That's the primary objective that anybody in any discipline should have."
He has an elite mentality but at the same time is shy and retiring. The Argentine has a playful sense of humour but City sources say Guardiola was surprised by his quiet nature around the dressing room when the Catalan arrived last summer, and Kyle Walker has said the same publicly. Both, though, have recognised his leadership qualities.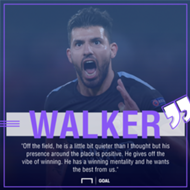 Daniel Fresco, who wrote Aguero's biography and knows him well, says he is deceptively astute.
"Even if sometimes he looked absent-minded, he'd always register what his coaches were telling him," he told Goal .
"Sergio is a good listener and never stops learning.
"As his team-mates say, he's taken on a role whereby he can share his experience with the younger members of the team, a type of silent leadership.
"Throughout each stage of his life he has proven to be an exemplary pupil, taking lessons as he goes. Now, at 29 years of age, he's a bit of both – a student and a teacher."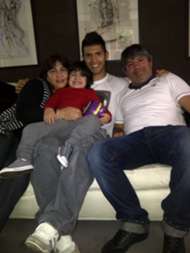 Aguero with his son Benjamin, mother Adriana and father Leonel. Credit: Sergio Aguero
Away from football he is just as quiet and it is unfortunate that one of the few times he went out to enjoy himself he ended up in a car crash. The fact he posted about the Amsterdam trip so freely on Instagram suggests he felt he had nothing to hide, though normally he spends his time at home, either on the Playstation (GTA Online is a favourite) or watching films.
He is more than happy to live his life out of the limelight, and very rarely gives interviews at all. On Wednesday night he gave his first in English, proof that he has been able to speak the language for years, but hasn't wanted to encourage any more media activities than are strictly necessary.
Maybe that desire to keep himself to himself is part of the reason why he has never been named player of the year by his peers or the media, and why he has never made a team of the season.
That is something that City fans often point to in amazement and something that he has noticed, too. Sources close to the player say that while he is not necessarily annoyed, he is somewhat baffled by the lack of recognition.
His calm nature means he is happy to do his talking on the pitch, however, and why he is usually able to get the better of the world's best defenders no matter what is, or isn't, said about him. 
Except when it's David Luiz, that is.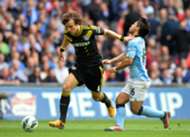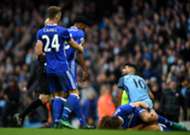 Aguero actually gets on well with the Brazilian off the pitch; they laughed and joked on the phone following the Argentine's two-footed stamp in 2013, and they have been known to exchange the odd message since.
But Luiz gets under Aguero's skin more than anybody. The Chelsea centre-back taunts opposition forwards during matches, and when the two faced off at the Etihad Stadium last December he spent the game mocking City's "pretty passing" but failure to capitalise on it. After 90 minutes of it Aguero had had enough, and launched an ugly two-footed lunge which left the Brazilian with a niggling knee injury for several months.
It was around that period when his trusted representatives were seriously weighing up the pros and cons of leaving City for the first time. Under the impression he was being forced out by Guardiola, the Aguero camp were ready to listen to Paris Saint-Germain's offer as the French club worked on signing a global superstar.
It has long been assumed that Aguero would fancy a return to Madrid at some stage, yet he had never previously agitated to leave, or encouraged any advances, and despite PSG's enquiries he was always keen to continue his quiet life in the Manchester suburbs. He will continue to do so until he is asked to leave, which may never happen given his positive reaction to Guardiola's demands.
As far as his relationship with the City boss goes, it is fair to say there is no smoke without fire. While fans are keen to put talks of a rift down to mere speculation, there has been friction between the two, yet nowhere near enough for the Catalan to wield his power, and the axe that did for Joe Hart, and nowhere near enough for the striker's performances to dip.
The Amsterdam crash may not have done Aguero any favours; Guardiola, despite public protestations, was indeed angry with the striker for being out of the country on a day off.
But, clearly, the striker has quickly put that behind him; he even protested that he could play against Chelsea, and breaking the club's scoring record so quickly upon his return shows that his main focus, as it always has been, is scoring goals and winning games.
Anybody who knows him will tell you the same. "Sergio is also a born winner." Fresco says. "He's not fond of losing and when it happens, he's able to push forward and double down. He keeps going for more and fights until the end."
Signorini concurs: "Fundamentally he loves what he does, he's a guy in love with the game, he's used to winning and he doesn't like to lose."
It is for these reasons, and not just the 178 goals, that Aguero has become an undisputed Manchester City legend.