Cristiano Ronaldo
Ronaldo still remarkable, but is the Madrid man on the wane?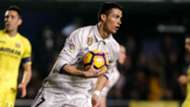 ---
STATS
---
To judge Cristiano Ronaldo on statistics alone does not do justice to a sporting phenomenon.
However, when the figures are as incredible as the ones the Portuguese has posted down the years, then they become impossible to ignore.
What is Ronaldo's net worth & salary
Numbers, after all, continue to play a big part in the story of one of football's all-time greats.
Seven on the shirt, an £80 million transfer fee, a record-breaking 390 goals for Real Madrid, two Champions League crowns, one European Championship, four Ballons d'Or, £365,000-a-week and 11 straight seasons breaking the 20-goal barrier - the list goes on and on.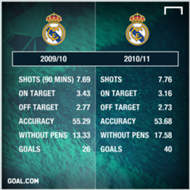 It is only when you really crunch the numbers, though, that you realise that 2016-17 has brought about an apparent waning in the powers of a once supernatural being.
That is not to say that CR7 is a spent force - far from it.
He has netted 19 times in La Liga this season – a return that places him third behind only Lionel Messi (23) and Luis Suarez (21) in the Pichichi race and one that would have the former Manchester United ace sat joint-top of the Golden Boot standings were he still plying his trade in England.
That total can be nudged up to 26 in all competitions, with his contribution in another productive Champions League campaign for Madrid keeping him at the summit of the all-time scoring charts and only five adrift of the magical century mark.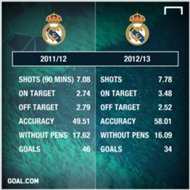 The Santiago Bernabeu natives have not always been taken with his efforts, though, with Ronaldo facing whistles from the stands alongside a number of high-profile team-mates.
This is, of course, not the first time that he has faced such criticism, with a standing on a lofty and illustrious pedestal leaving the very best in the business exposed, but he has always bounced back stronger.
'Neymar level with Messi & CR7'
Can he do that once again? He may have to.
A gladiatorial spirit and physique may still be intact, but Ronaldo is now 32 years of age and even he will be aware that he cannot evade the clutches of Father Time forever and this season he has endured a dip, of that there is no question.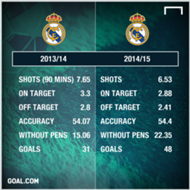 He may be so much more than a goalscorer, but it is his uncanny ability to find the back of the net that has marked him out from many of his peers for over a decade now – with the last six campaigns seeing him post numbers of 50-plus.
Ronaldo could always be relied upon to be at the heart of the action in the final third, with an oft-maligned selfish streak ensuring that he invariably had the final touch in any given move.
This season, though, he has been firing in fewer shots – at a career low rate in Madrid of a little over six per game - and his radar has become somewhat skewed – with fewer efforts troubling opposing goalkeepers and 54 of his 123 attempts missing the target altogether (the highest figure across Europe's top five divisions by some distance).
His shooting accuracy of 45.45 per cent is, therefore, the lowest it has been for the Blancos, while his conversion rate, which has been as high as 22.35 in the past, is well down at 14.13 when his seven penalties – of which he has converted six – are taken out of the equation.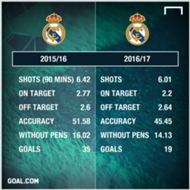 Ronaldo's ability to conjure up something out of nothing could also be questioned as he is in danger of hitting another low in terms of goals netted from outside the box, with a return of two so far – of which one has been a direct free-kick – some way down on a previous personal worst of five.
There is of course still plenty of time in which to right these wrongs – everyone is entitled to the odd blip - and it would come as a surprise to no-one were a hot streak to be found that delivered another shedload of goals, more major trophies at home and abroad and a potential shot at defending his Ballon d'Or crown in 2017.
Does he still have that spark, though, or will a once superhuman power be shown to be mortal after all?
Only time will tell.