Juventus
Ronaldo gifted Juventus No.7 shirt by Cuadrado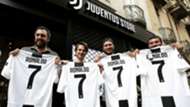 Juan Cuadrado has gifted the No.7 shirt to Cristiano Ronaldo after the Portugal superstar moved to Juventus from Real Madrid.
Ronaldo moved to Turin in an incredible €100 million deal earlier this week, and speculation ran rampant over whether the 33-year-old would be able to wear the number that has become synonymous with his name.
And now Cuadrado has taken the decision himself, handing Ronaldo his famous number.
Writing on Instagram, he said: "It is better to give than to receive! Blessings Cristiano in this new adventure."
Many feel it was likely that Ronaldo would have been given the shirt regardless by his new club, even if Cuadrado did not want to pass it off, with the 'CR7' brand being of huge importance to the player's estate and Ronaldo himself presumably holding all the cards in what is likely to be the most high-profile transfer of the summer.
In a similar scenario, Javier Pastore handed over the number 10 shirt to Neymar upon the Brazilian's world-record €222 million signing with Paris Saint-German last summer, the Argentine having said he wanted to give his new team-mate a 'symbolic gift'.
Things are not all rosy in Turin, however, with Ronaldo's big-money switch having already provoked criticism from Fiat workers in Melfi, who have gone on strike in protest at the extravagant signing.
"It is better to give than to receive."

What a welcome to @Cristiano from @Cuadrado ! 👏👏👏 #FinoAllaFine #ForzaJuve pic.twitter.com/wfk9G8eAQx

— JuventusFC (@juventusfcen) July 12, 2018
Juve, Fiat Chrysler Automobiles (FCA) and CNH Industrial (CNHI) are all owned by the holding company Exor, which is controlled by the Agnelli family, and workers have expressed their disgust at the transfer.
"It is unacceptable that while FCA and CNHI workers continue to make huge economic sacrifices, the company then spends hundreds of millions of euros on the purchase of a player," a statement from the USB (Unione Sindicale di Base) read.