UEFA Champions League
Police called to Maradona hotel room disturbance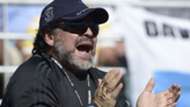 Argentina legend Diego Maradona received a visit from the police on Wednesday, Goal can confirm.
The 56-year-old was staying at a hotel in Madrid when authorities were alerted to what was described as a "strong discussion" between the former Barcelona and Napoli star and his girlfriend, Rocio Oliva, at around 08:30.
Both a police car and an ambulance travelled to the hotel, but after discussions with the 1986 World Cup winner and his partner, it was established that their voices were simply raised and that no charges were to be pressed.
Police did not see any signs of aggression or injury on either party and thereafter took their leave.
Maradona is expected to be present at Santiago Bernabeu on Wednesday, when Napoli tackle Real Madrid in a first-leg last-16 encounter in the Champions League. 
He played nearly 200 times for the Serie A side, where he is still revered as an iconic figure, and also had a spell in La Liga, where he starred for Barcelona from 1982-1984.