Alex Oxlade-Chamberlain
Oxlade-Chamberlain: I had no fear when Moses went down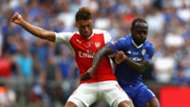 Alex Oxlade-Chamberlain says he had no fear that he had given away a penalty when Victor Moses went down in the box in Arsenal's FA Cup win over Chelsea.
Bayern, Man Utd and the 2017-18 kits
With his side trailing 1-0, the Blues winger was sent off with his second yellow card of the game when he tried to get beyond the Arsenal forward and ended up hitting the ground.
Despite the calls from Chelsea players and fans for a penalty, Oxlade-Chamberlain says he knew he had pulled out of the challenge early enough and did not get close to him.
"I didn't fear the worst, not at all," he told Arsenal's website.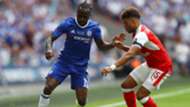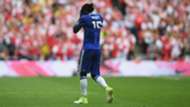 "I think obviously when he went inside there was a moment when I sort of went to go for the ball, and then I thought he might just be a little bit ahead of me so I decided to pull out and not go for it.
"So as soon as Moses went down I was fully confident that I was nowhere near him and that the referee should have seen that so my heart didn't really go in my mouth.
"I didn't realise he was on a yellow so when [the sending off] happened that was more of a surprise for me.
"But I knew I didn't go anywhere near him and obviously it helped us to victory in the end."
England international Oxlade-Chamberlain was deployed in a new role as the Gunners' won 2-1 to secure the trophy.
Although he was surprised by the change, he was sure he could cope with it.
Ozil trolls 'experts' following Arsenal's FA Cup triumph
"It was a little bit of a shock," the 23-year-old added. "Obviously it's not somewhere I've played before.
"I think I said a few weeks ago that I might play left back soon. I was only joking so for it to happen in the final was a bit of surprise.
"I've played left wing before and it's something that I thought I could cope with and I could do, and obviously it was different and was a different task being on that side of the pitch but ultimately I was happy to do the job for the team.
"Maybe I felt a little bit off the pace after having a few weeks out but I gave everything I had. I think everyone put in a real good shift and the boys did what we needed to do."