Thomas Müller
Muller: I can't score if Bayern aren't playing well
Thomas Muller says his poor form for Bayern Munich this season is down to the team's unconvincing attacking performances and has urged his side to improve their displays.
Mourinho's tantrums at 'the truth' hide real Man Utd problems
Germany international Muller has scored just one Bundesliga game this season, netting four in 24 in all competitions.
Bayern still sit top of the Bundesliga table - three points clear of closest challengers RB Leipzig - but have come under criticism for some underwhelming displays.
And while Muller admits he should have better returns at this stage of the campaign, he feels the problem is not entirely down to him, insisting that he needs better support from his team-mates.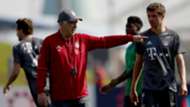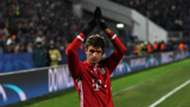 "My [goal-scoring] stats are not the same as in recent years. When the team's not playing well offensively, it's always a problem for me because I'm not an individualistic player," he told ESPN.
"I don't take the ball in the middle of the pitch and dribble past six guys. When our positioning and ball game and passing is not that good, then my game is struggling as well. 
"I can score from set pieces and so on, but I have to be involved in the combinations, make my runs without the ball, go deep. When we find our game, play more balls on the ground, through the middle, and combine better, it's more comfortable for me as well.
"If I only looked at my running, I should have scored 35 goals by now because I'm running more than last year."
There have been suggestions that Bayern's less impressive games have been a result of new coach Carlo Ancelotti still getting used to his new surroundings, but Muller feels that explanation is too simplistic.
"I don't think that's the problem. Everybody needs to look at the mirror and think why it doesn't work that well," he added. "I think it's more of a problem of the team than of individuals. We as players have to find the solution to be a team, to be more compact on the pitch.
"The distances between us are too big. We have problems with the second ball. Against Freiburg and Bremen, we had so much defending to do that we didn't create many chances.
Kante & Jesus in Premier League Team of the Week
"We are not satisfied if we win in a game that doesn't feel like it was our game. We won the last three away games narrowly. They were tough games. You can search for reasons. Maybe it was the pitches.
"Right now, the weather isn't that good. But that's only a small part. We don't play the style we want to play. The ball isn't [moving around] the way we want to. We have a good mentality and very good players. But we want more - more control."