Manchester United
Mourinho's tantrums at 'the truth' hide real Man Utd problems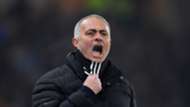 ---
COMMENT
---
If Jose Mourinho's aim was to avoid tough questions about his team selection or the inability of his Manchester United side to create clear-cut chances and break down Hull City, then he did his job very well.
But in storming out of a TV interview and then kicking up a stink about the nature of journalists' questions on his refereeing gripes in a press conference, Mourinho has again showed the kind of divisive nature which will always attract critics.
Man Utd surpass Barca's unbeaten run
"If you do not know football, you should not have a microphone in your hand," the United boss told a BBC reporter who had the temerity to ask a simple question about what exactly Mourinho had found so objectionable in referee Mike Jones' performance.
Once he had delivered that stinging rebuke, the Portuguese stormed straight off to his next media commitment in front of the world's press. There, he was in no less spiky mood when asked a similar question on the referee.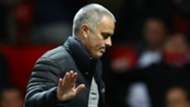 "I really don't understand why you ask these kind of questions since the start of the season. If I was in your place I wouldn't ask the manager, I would just say and write what I see, what I think, what is my opinion.
"Game after game I would just write what is happening every game with us, if not every game almost every game. If I speak I am punished, I do not want to be punished.
Premier League Team of the Week
"Maybe your industry is going in another direction, I don't know, but for me [the purpose of] journalism is to say the truth. You simply have just to tell the truth, and if you go game after game with Manchester United and you see what happened here with Manchester City, what happened here with Burnley, what happened here with West Ham, what happened at Stoke, what happened almost everywhere, you do your job and you do your public service I think: tell the truth.
"If telling the truth is Manchester United didn't play well in the first half, then so be it. But tell the truth, don't ask me questions that I cannot answer."
The truth? OK, Jose: the truth is that Manchester United deserved no more than the point they got from the game. The truth is that the majority of United fans would have been more interested in hearing about some of his tactical changes and substitutions in the second half than have him repeat old gripes about dropped points of months ago. The truth is that many of those in attendance would have wanted him to field questions on his decision not to introduce Anthony Martial at some point rather than see him slope off once he'd got his latest moan at the standard of officials off his chest.
It is arguable that Oumar Niasse may have been sent off on another night for his lunge on Daley Blind, but the challenge by Tom Huddlestone on Zlatan Ibrahimovic that provoked appeals from the Stretford End and had Mourinho waving his arms around in frustration was barely worthy of note, let alone a penalty.
'Totti the Muhammad Ali of football'
Just as every blinkered football fan believes their team gets a raw deal from referees, Mourinho has seemingly made it his mission to have a fine-toothed comb run through every officiating display which takes place in United's presence. But in reality, there are deeper issues which have underpinned the travails of the 20-time English champions this term than poor calls from officials.
United's inability to play to the strengths of world-record buy Pogba are not down to an overlooked penalty shout against Stoke City. The root cause of their over-reliance on Ibrahimovic is not a lenient view of a challenge against Burnley. A lack of zest in their play at Old Trafford is not attributable to the referee's display on Wednesday.
Manchester United sit in sixth place for a reason that does not involve referees. That is the truth, whether Jose Mourinho can handle it or not.