UEFA Europa League
It's Mourinho's make or break moment - and he needs Rooney to rally Man Utd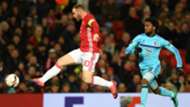 ---
COMMENT
---
Progression in the Europa League on Thursday might not make Manchester United's season, but failure certainly could help to break it. And the clash with Zorya Luhansk bears all the hallmarks of the stereotypical European upset.
There's the lethargy-inducing flight from one side of the continent to the other, the freezing cold weather, the far-from-ideal icy pitch conditions and the relatively-unknown opponents who have already proved tough to break down in their previous meeting with United earlier in the campaign.
What United really need in Odessa is to get in there, get the job done and get out again, preferably as unscathed as the frosty conditions allow. And to that end Jose Mourinho needs to select his most experienced line-up possible to give his side every chance to keep a cool head and deliver when necessary.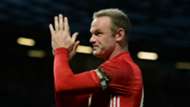 To that end Wayne Rooney's presence in Ukraine could be crucial. The club captain was missing from Sunday's frustrating 1-1 draw at Everton due to a domestic suspension but returns to the fray on Thursday with much work still to do to become a first-team regular once more. Since being dropped in September by Mourinho, and then finding himself left out of the England XI by Gareth Southgate in October, Rooney has played in consecutive fixtures only once as he has struggled to find form amidst regular questions as to his worth to both his club and his country.
But against West Ham United in the EFL Cup last week Rooney delivered one of the most character-filled performances perhaps of his entire career. At the hub of most of United's best moments, he was one of the key men in the 4-1 win and would surely have been given another run-out on Sunday had he not picked up his fifth yellow card of the season.
It was also the latest example of how Zlatan Ibrahimovic can thrive with Rooney in close proximity. The Swede's long-range effort against Everton was the first of his 12 Manchester United goals to come without the skipper on the field, and Rooney's presence within Ibrahimovic's vicinity has largely been a huge positive for United.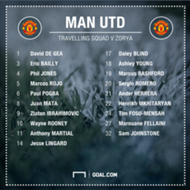 When Ibrahimovic has needed somebody to read his movement and his clever play, Rooney has generally been the player responding best. And that kind of partnership could be crucial in the kind of atmosphere that will await United in Odessa. The ageing and tiring Michael Carrick apart, Ibrahimovic and Rooney are the Reds' two most experienced heads, and a single move in which the pair link up to good effect might be all it takes for United to complete the job of qualifying for the knockout phase of the competition.
Neymar gives Ballon d'Or verdict
This is a fixture United need to simply get out of the way with no scars to bear, and Rooney is the best option in behind the former PSG man if they are to make the most of their chances. So often the final group match of a European tournament demands only that the result is acquired, and that is most certainly true of this game. Is Rooney United's most creative option as a second striker? Most certainly not. Is he their most in-form player? Of course not. But is he the most likely to deliver when the chips are down? A tally of 248 United goals, including a club-record 39 in Europe, suggests he is.
The 31-year-old still has a lot to do to prove himself to be Mourinho's best option at No.10 longer term, but the clash with Zorya is one match in which Rooney is the manager's best bet of getting the job done.