Calcutta Premier Division A
'May play from Jharkhand next year': Mohun Bagan ups the ante against East Bengal and IFA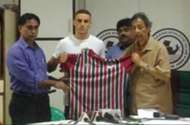 Mohun Bagan's finance secretary Debasish Dutta put more pressure on Indian Football Association (IFA) on Friday, threatening that his club may not participate in the Calcutta Football League starting next year.
"IFA is not Indian Football Association any more. They are now East Bengal Football Association. Their job is to help that club win the league," Dutta launched a scathing attack on the governing body, adding fuel to the Mariners' recent furore alleging a collusion between their arch-rivals and the state association.
All hell broke loose at the Kolkata Maidan on Thursday, when the Red and Golds managed to eke out a 2-1 victory against Pathachakra, courtesy a controversial penalty awarded in the dying minutes of the game. 
Srinjoy Bose, another senior official at the club had called the competition a 'circus' while Dutta complained that Utpal Ganguly - the IFA secretary - has played a pivotal role in East Bengal's consecutive seven CFL victories.
The outspoken official also made it clear that he is not afraid of being punished by IFA for his comments.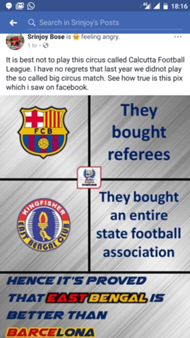 "We don't care about punishment meted out by them. At most, they can cancel our affiliation. In case we take part in the Indian Super League, we won't need it anyway. We can also take approval from Jharkhand Association or someone else in that case," he said.
With sixteen points from six matches, Mohun Bagan are now second in the points table with a two-point deficit as East Bengal have maintained their all-win record. The two teams will meet in Siliguri for the much-awaited derby on 24th September after locking horns with third-placed Mohammedan Sporting next week.