WTF
Mignolet reveals the most fined Liverpool players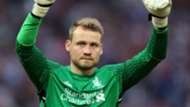 Liverpool goalkeeper Simon Mignolet has revealed that Sadio Mane and Trent Alexander-Arnold are the most fined players at Anfield — and the explanation is rather unusual.
While a player may typically be fined for such infractions as being late to a team meeting or violating the dress code while traveling, the Reds duo have been guilty of not keeping the club's staff up to date on their sleeping habits.
Addressing the topic in a lighthearted interview with Sky Sports, Mignolet said: "We have to fill in an app every morning saying how much sleep we had, how good we feel, to go before every training, and they keep forgetting."
Mignolet offered a variety of opinions about his Liverpool team-mates during the interview, referring to Philippe Coutinho as the top "player's player," calling Jon Flanagan the team's main jokester, hailing Daniel Sturridge's dance moves and shaming Adam Lallana's as the Anfield teacher's pet.