Manchester United
Matic warns Man Utd's rivals that he will get even better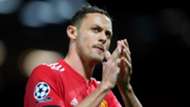 Nemanja Matic has impressed for Manchester United since making a £40 million move, but has warned the club's rivals that there is still more to come.
The Serbia international moved to Old Trafford over the summer, with Jose Mourinho raiding former club Chelsea to secure a reunion with a two-time Premier League title winner.
United 7/4 to win at Liverpool
Matic has settled quickly in new surroundings, with his presence credited with helping to transform United into serious contenders for the top-flight crown.
He has allowed those around him to flourish while filling a holding role, but the 29-year-old claims that he can get even better as he continues to build his fitness.
"I didn't have pre-season," Matic told reporters on his summer.
"I trained alone. I can feel it in some parts of the game! My body is not ready yet and I have some difficulty, of course, but I try to hide that and to play simple. I will be better.
"We know what we have to do because we are Manchester United and we are focused just on the next game. Always the next game is the most important, so game by game we have to collect points and next May we will see. It's a long way to go."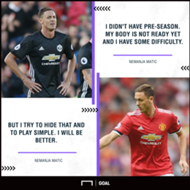 United have benefited this season from the addition of key figures such as Matic and Romelu Lukaku.
They have gone unbeaten through their opening 10 games of the campaign in all competitions, but those at Old Trafford are aware of the need to seek continuous improvement as their opponents become better versed in how to contain the threat they pose.
Matic added: "We cannot be relaxed for the future because we have to win more, focus because the teams now know how we play, the teams know our formation, our players and, of course, in the future those will want to show they can play against Manchester United.
"We will be focused, we will be ready for that. It is going to be hard but that's why we are here."
He added: It is going to be harder and harder for us - not only for us, for every team - so we have to collect the points and to continue to work like this.
"But we are in a good position. The most important thing is to collect the points, not concede the goals, because this is good for our confidence.
"It's too early to say someone is favourite to win the league, but for sure there are five or six teams who are going to compete this year."
United will return to action after the international break with a stern test of their credentials, with Mourinho's men due at Anfield on October 14 to face old adversaries Liverpool.