Manchester United
Lukaku and Man Utd strike back at 'Park the Bus' critics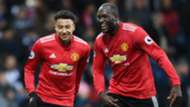 The last seven days in English football seem to have been filled with talk of Jose Mourinho's bus. The Manchester United boss has quite rightly drawn the ire of many for the timid way he set his side out in the 2-1 defeat to runaway leaders Manchester City last Sunday.
But one week on from that most forgettable of United displays, and with City's taunts still ringing in their ears, United have responded with a return to the business of winning football matches. And on Sunday there was even a hint of swagger about their performance for the most part as they beat West Bromwich Albion 2-1 at The Hawthorns thanks to a clinical first-half display which featured another goal for the much-derided Romelu Lukaku, even if they were left hanging on at the end.
United had attempted plenty of intricate passes and neat sequences in the opening 20 minutes but they had threatened West Brom's defence little. It was only when they eventually got a first testing cross into the box that they opened the deadlock through Lukaku's header from Marcus Rashford's centre.
Lukaku's worth in the more higher-profile fixtures has been doubted for much of his Premier League career so far, but this was his 31st goal in 39 matches against teams outside of the modern 'top six'. What's more, it was his third in four games with only the setback against City breaking up his scoring run. In addition, it was a reminder of how lethal he can be if United decide to provide him with just the kind of service he relishes most.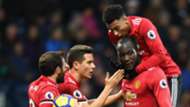 Only eight minutes later they had the game all-but won thanks to Ahmed Hegazi's unnecessary diversion of Jesse Lingard's low shot, completely foxing goalkeeper Ben Foster. For a side which had come into the game on a 304-minute barren run in front of goal, a two-goal deficit was always going to be too much to breach.
United's fans took the opportunity to fire back at City's supporters and players by re-appropriating the "park the bus" chant for themselves as a sarcastic response to the accusations levelled at their side. They know as well as anyone that under Mourinho this season their team has been more than capable of this kind of performance even if they have too often reverted to the sort of approach which has caused rancour over the past seven days.
At 2-0 up it appeared United would see the game out with something to spare but they contrived to give away a soft goal from Chris Brunt's 77th-minute corner as Gareth Barry poked home after Jonny Evans' initial effort wasn't cleared. From then on there was a nervousness about United's play which belied the rest of the proceedings, but they were more than deserving of their three points.
In a jam-packed festive calendar, and on the back of a punishing derby loss, wins are all-important right now. But the largely-improved display at The Hawthorns should not go unnoticed as Mourinho's men pick themselves back up off the canvas.