U17 World Cup
India U-17 World Cup team: Year-wise highlights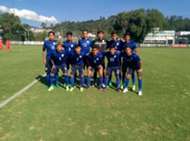 India have come a long way preparing for the U-17 World Cup that is going to be staged in the country from October 6-28. 
Having visited as many as 13 counties as part of their exposure trips over the last three years, the India Under-17 team have played nearly a 100 games - both international and domestic - with a winning rate of close to 40 per cent.
In 2015, India qualified for the U-16 AFC Championship in India on merit under former coach Nicolai Adam, defeating countries like Bahrain and Lebanon. 
The next year under the German coach, India's youngsters won againt the age group national team of Luxembourg besides participating in four international tournaments where they were up against the likes of USA, Korea Republic, Tanzania, Norway, Brazil, South Africa, China, Russia and Uruguay.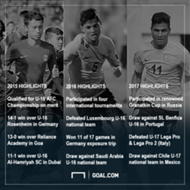 After participating in the XXIX Granatkin Memorial Cup in Russia, which was the last assignment under Adam, the role of the India U-17 head coach was taken over by Portuguese gaffer Luis Norton de Matos from March 2017. At the Granatkin Cup, which is recognised as one of the most reputed international youth tournaments, India faced Belarus, Latvia, Estonia, Iran and Tajikistan.
Under Matos, India's U-17 preliminary World Cup squad drew against Benfica in Portugal and took part in a four nation tournament in their final overseas assignment where they played Mexico, Colombia and Chile's U-17 teams, with the most notable result being the 1-1 draw 1-1 against Chile.