U17 World Cup
India U-17 World Cup team: All the exposure trips detailed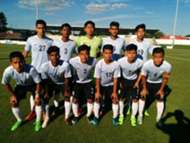 The India U-17 national team's groundwork towards their participation in the U-17 World Cup that will be hosted in India from October 6-28 this year began more than two years ago with the India Colts going on 15 exposure trips under two coaches.
Nicolai Adam was appointed as the head coach by the All India Football Federation (AIFF) in February 2015. The German coach's first overseas trip with India's squad assembled for the U-17 World Cup was in his home country and concluded with the Granatkin Memorial Cup 2017 in Russia. 
Portuguese coach Luis Norton de Matos took over the reins from Adam in early 2017, the Indian U-17 national team travelled to six different countries.