Serie A
Icardi goes to extremes with full-body tattoo!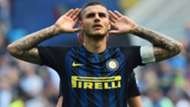 Mauro Icardi will go to any extreme to show how much he cares for his loved ones, as his quite frankly monumental new tattoo demonstrates. 
The greatest moments of Totti's career
The Inter striker, who is married to Argentine model Wanda Nara, is not afraid to voice his feelings either via social media or through body art. 
And he combined the two channels on Wednesday with the first glimpse of an almost completed full-body tattoo dedicated to his children. 
"After three sessions in five months it is taking shape @arturholykoi," he wrote on Instagram alongside the lion he now sports on his chest, and the tattoo artist responsible for the work.
"As always my friend, thank you for this work of art that we started dedicated to my two loves plus Chiquitos, Francesca and Isabella. 
"See you soon to continue." 
Icardi is Inter's top scorer for the 2016-17 season with 26 goals in 39 games, as Stefano Pioli's men have struggled through a campaign of mixed fortunes.