Republic of Ireland v Netherlands
Hogan: I couldn't say no to Roy Keane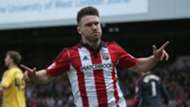 Brentford striker Scott Hogan has admitted that he "couldn't say no to Roy Keane" if he was asked to play for the Republic of Ireland, revealing that the former Manchester United captain "is one of [his] heroes".
Keane was at Brentford's 5-1 win over Huddersfield Town at the weekend to cast his eye over the in-form Hogan and the attacker made a contribution to his side's victory with two goals. The double took the 24-year-old's tally to the season to seven goals in seven games and it was the third consecutive game in which he found the net twice.
As Martin O'Neill's team prepare for their final Euro 2016 warm-up friendlies against the Netherlands and Belarus at the end of May, Hogan says that "the Ireland thing" is "a surprise" but conceded that he could not turn down an approach from Keane.
"Since I came back [from injury], I have scored seven in seven appearances, but only started two games in that time," Hogan told the Telegraph. "Then there is the Ireland thing, which again is a surprise.
"Roy Keane was at Huddersfield on Saturday apparently and if Roy Keane rang me up, I couldn't say no to Roy Keane. He is one of my heroes."
Hogan was born in England but is eligible for the Boys in Green due to his Irish ancestry and recently explained that he opted against linking up with Noel King's Ireland Under-21 squad during his time at Rochdale in the 2013-14 season.
Last week, he explained that international ambitions were not on his agenda.
"There are much more things I'm worried about than declaring what country I can play for," said Hogan. "My grandma and granddad are Irish – my late grandfather was as well.
"I'm eligible to play for them but I'm a Brentford player and the last thing I'm thinking of is who I'm going to represent internationally. It's getting ahead of myself a bit too much."