Manchester United v Manchester City
Guardiola: Man Utd rival Mourinho is my twin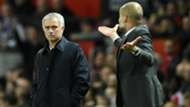 Manchester City boss Pep Guardiola considers himself and Manchester United rival Jose Mourinho to be "twins" in trophy hunting.
Two old adversaries are set to lock horns at Old Trafford on Sunday with derby pride and precious points on the line.
Guardiola and Mourinho have endured a fractious relationship in the past, with their time spent on opposite sides of the Barcelona and Real Madrid Clasico divide pitching them into regular combat.
Hostilities have been rekindled in England, but there are more similarities between the pair than many might think.
Guardiola concedes as much, telling reporters when asked whether he has the same obsession with winning silverware as Mourinho: "Definitely. In that we are twins. He wants to win trophies, I want to win trophies.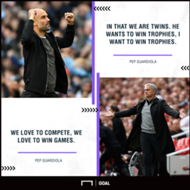 "Antonio Conte as well and Jurgen [Klopp] and Mauricio [Pochettino].
"We love to compete, we love to win games but believe me it's not a special occasion when we beat Mourinho teams."
City will cross Manchester this weekend looking to cement their standing at the top of the Premier League table.
They currently hold an eight-point advantage over the chasing pack, placing added importance on the latest derby clash for United as they seek to bridge that gap.
Mourinho is expected to keep things tight in a crucial contest, but Guardiola insists he has no complaints about the Portuguese's methods as he boasts an enviable CV to back up his approach.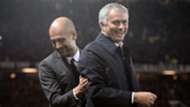 The Catalan coach added: "We've faced each other many times in big moments.
"I know the way we see the game is different because it's normal.
"I never criticise my colleagues the way they play. Every manager plays the way they play.
"At the end of the result, I will respect my colleague. He knows, I know, that we want to beat each other."
City and United faced off three times in all competitions last season, with the spoils shared as the Red Devils secured one win in the League Cup, City one in the Premier League and a goalless draw played out in a final top-flight meeting at the Etihad Stadium in April.