Johor Darul Ta'zim
Figueroa takes over JDT role from Edwards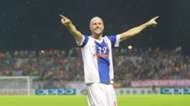 Johor Darul Ta'zim (JDT) will now have a new Sporting Director in Luciano Figueroa who takes over from Alistair Edwards.
It is a seamless transition, at least in the sense of one former fans' favourite to another. Edwards is fondly remembered for his contribution in the 90's while Figueroa is one from the newer brigade.
Edwards has been in the role since the start of 2016 and after slightly under two years in the position, looks to seek greener pastures elsewhere. The Australian has been seen in Football Association of Malaysia (FAM) functions as well as being present for the Malaysia versus Hong Kong match in Melaka last Tuesday.
With the owner of JDT, HRH Tunku Ismail Sultan Ibrahim also the president of FAM, Edwards could be in line for a change of scenery in a bigger environment. Time will tell if that will come to fruition.
As for Figueroa, since the resumption of domestic football after the fasting month break, the Argentine has been seen traveling with the JDT squad for every one of their matches. He has been allowed in the dressing room, substitute bench as well as on the pitch during matches home and away.
The Southern Tigers have been keeping a tight lid on what appointment awaited Figueroa and the mystery was finally revealed late Friday night.
Having plied his trade his various countries and regions - from Argentina to England to Spain to Mexico and Greece, Figueroa has accumulated a wealth of knowledge working under very different systems and regimes all over the world.
While the 36-year-old might be inexperienced when it comes to the being in a administration role, the input in which he could produce could be invaluable to the change and improvements that JDT aspire to achieve.
With JDT looking to create new ties with Brazil's Santos and England's Chelsea, Figueroa's appointment looks increasingly like an astute one.