MLS
FC Cincinnati to hold MLS announcement Tuesday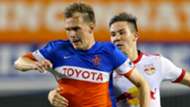 FC Cincinnati appears to be on its way to becoming the newest Major League Soccer franchise.
The second-division United Soccer League side has announced it will hold a press conference on May 29 regarding "a significant announcement about the future of soccer in Cincinnati" with MLS commissioner Don Garber among the the guests.
FC Cincinnati Owner and CEO Carl H. Lindler III, team president and general manager Jeff Berding and Cincinnati mayor John Cranley will also be in attendance.
The language, including an "announcement" on "the future of soccer", is similar to previous MLS expansion announcements.
It will make FC Cincinnati the 26th named MLS franchise, following David Beckham's long-awaited Miami franchise and Nashville's announcement in December.
However, a report from Sports Illustrated indicates FC Cincinnati would become the 24th franchise to take the field, as it would join the league straight away next season in 2019. Miami and Nashville are expected to begin play in 2020.
Originally, it was expected the league would announce two teams late last year. However questions surrounding some of the prospective franchises led to Nashville's confirmation by itself, with Cincinnati, Sacramento and Detroit still in the running.
Cincinnati appeared to have sorted out its potential stadium issues for a prospective new home in 2021. In the meantime, the team would continue to play at the University of Cincinnati's Nippert Stadium.
MLS has stated previously it intends to get up to 28 teams, so the door is not yet closed on Sacramento or Detroit.
FC Cincinnati has become known for its sizable crowds and had a memorable run to the U.S. Open Cup semifinals in 2017, losing to the New York Red Bulls in extra-time after surrendering a 2-0 lead in the second half.
The franchise averaged over 21,000 fans per game in 2017.